The Couple on Maple Drive (Paperback)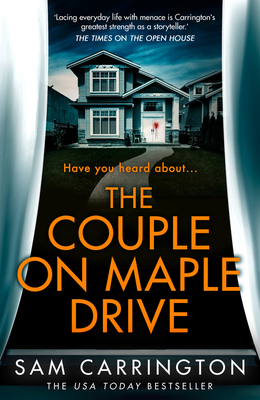 $12.99

NOT ON OUR SHELVES- available for order, usually ships in 1-5 days
Description
---
'YES SAM CARRINGTON, YES. This is how you write a thriller... I read this in one three-hour sitting and I regret nothing.' Goodreads reviewer ⭐⭐⭐⭐⭐
From bestselling author Sam Carrington who also writes as Alice Hunter comes another nail-biting thriller.
You never really know what goes on behind closed doors...
When Isla McKenzie is brutally mugged, it's her boyfriend Zach who's there for her, who moves in to look after her when she can barely bring herself to leave the house.
But then something else happens, right on their doorstep. And it's almost like someone's out to get her...
Can Isla and Zach find out the truth before it's too late? ...Or at least before the secrets they're hiding from each other surface?
Because those may be even deadlier...
From the USA Today bestselling author Sam Carrington comes an absolutely compelling psychological thriller that will make you question how well you know those closest to you--and how safe you ever are. Perfect for fans of Behind Closed Doors, The Girl on the Train, and Gillian Flynn.
Readers love
The Couple on Maple Drive
:
'Phew This is a real edge of your seat gripping story. My heart was pounding and I was screaming ' Goodreads reviewer ⭐⭐⭐⭐⭐
'WOW ... Incredible, from the prologue to the end. I was hooked... and the twist at the end O M G - I did not see that coming... Guys, This is a MUST read ' Goodreads reviewer ⭐⭐⭐⭐⭐
'Amazing. I could not put the book down for even a minute... mind blowing... I spent the whole day telling my sister about it.' NetGalley reviewer ⭐⭐⭐⭐⭐
'I can't speak highly enough of this... It kept me up reading til the early hours.' NetGalley reviewer ⭐⭐⭐⭐⭐
'I devoured this... One of the best books I've read this year.' Goodreads reviewer ⭐⭐⭐⭐⭐
'A fantastic page turner... just all round amazing... Had me feeling every single moment of fear, unease, and creepiness. One thriller you won't want to miss ' Rubie_reads ⭐⭐⭐⭐⭐
'Wow ... fantastic... I loved it so much ...so addictive...It felt as though I was watching a movie.' Goodreads reviewer ⭐⭐⭐⭐⭐