Operational Updates
Click HERE for the most updated hours, customer guidelines and updates to store policy.
Armchair Economist: Economics & Everyday Life (Paperback)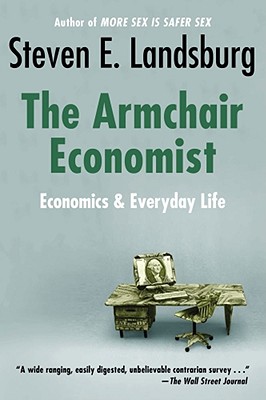 $14.99
Email or call for price
Description
---
Witty economists are about as easy to find as anorexic mezzo-sopranos, natty mujahedeen, and cheerful Philadelphians. But Steven E. Landsburg...is one economist who fits the bill. In a wide-ranging, easily digested, unbelievably contrarian survey of everything from why popcorn at movie houses costs so much to why recycling may actually reduce the number of trees on the planet, the University of Rochester professor valiantly turns the discussion of vexing economic questions into an activity that ordinary people might enjoy.
-- Joe Queenan, The Wall Street Journal
The Armchair Economist is a wonderful little book, written by someone for whom English is a first (and beloved) language, and it contains not a single graph or equation...Landsburg presents fascinating concepts in a form easily accessible to noneconomists.
-- Erik M. Jensen, The Cleveland Plain Dealer
...enormous fun from its opening page...Landsburg has done something extraordinary: He has expounded basic economic principles with wit and verve.
-- Dan Seligman, Fortune