U2 by U2 (Hardcover)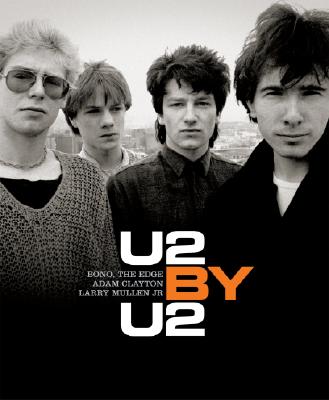 Description
---
In 1975, four teenagers from Mount Temple School in Dublin gathered in a crowded kitchen to discuss forming a band. The drum kit just about fit into the room, the lead guitarist was playing a homemade guitar, the bassist could barely play at all and nobody wanted to sing. Over thirty years later, Bono, The Edge, Adam Clayton and Larry Mullen Jr are still together, bound by intense loyalty, passionate idealism and a relentless belief in the power of rock and roll to change the world.
In a epic journey that has taken them from the clubs of Dublin to the stadiums of the world, U2 have sold over 130 million albums, been number one all over the world, revolutionized live performance, spearheaded political campaigns and made music that defines the age we live in.
From the anarchic days of their Seventies punk origins through their Eighties ascent to superstardom with the epic rock of 'The Joshua Tree', the dark post-modern ironies of 'Achtung Baby' in the Nineties and their 21st-Century resurgence as rock's biggest and boldest band, this is a tale of faith, love, drama, family, birth, death, survival, conflict, crises, creativity . . . and a lot of laughter.
Told with wit, insight and astonishing candour by the band themselves and manager Paul McGuinness, with pictures from their own archives, 'U2 by U2' allows unprecedented access into the inner life of the greatest rock band of our times.
About the Author
---
U2 is one of the most successful and innovative groups of the last two decades. The members are Bono, The Edge, Adam Clayton and Larry Mullen Jr. Together, they have sold more than 100 million records around the globe and are consistently featured in the best albums of all time. They are also involved in many charities including Amnesty International, Greenpeace, Drop the Debt, and the Chernobyl Children's Project.
Neil McCormick has been a close personal friend of U2 for many years (he grew up with the band). A staff music writer for The Daily Telegraph, his latest novel was called Killing Bono. He lives in London, England.
Praise For…
---
"Arguably the greatest rock band on the planet, U2 now offers the definitive version of how it got there."
— USA Today

"Fascinating details."
— Entertainment Weekly

"...a definitive retrospective based on more than 150 hours of interviews."
— Rolling Stone

"The book is sure to satisfy even the truly dedicated."
— Vanity Fair

"...U2 BY U2 sure feels a lot like gospel."
— Chicago Sun-Times

"Recommended for all popular music collections."
— Library Journal