Operational Updates
Click HERE for the most updated hours, customer guidelines and updates to store policy.
I Am Not Myself These Days: A Memoir (Paperback)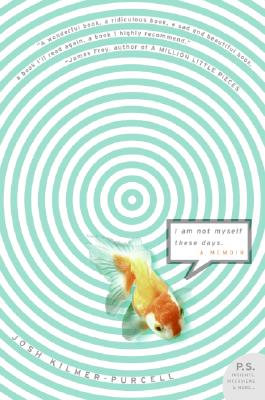 $17.99

NOT ON OUR SHELVES- available for order, usually ships in 1-5 days
Description
---
"A glittering, bittersweet vision of an outsider who turned himself into the life and soul of the party. Kilmer-Purcell's cast is part freak-show, part soap-opera, but his prose is graced with such insight and wit that the laughter is revelatory, and the tears—and there are tears to be shed along this extraordinary journey—are shed for people in whom everybody will find something of themselves. In a word, wonderful."  — Clive Barker
"Absolutely hilarious and heartbreaking and heartfelt." —Armistead Maupin, author of Tales of the City
The New York Times bestselling, darkly funny memoir of a young New Yorker's daring dual life—advertising art director by day, glitter-dripping drag queen and nightclub beauty-pageant hopeful by night—was a smash literary debut for Josh Kilmer-Purcell, now known for his popular Planet Green television series The Fabulous Beekman Boys. His story begins here—before the homemade goat milk soaps and hand-gathered honeys, before his memoir of the city mouse's move to the country, The Bucolic Plague—in I Am Not Myself These Days, with "plenty of dishy anecdotes and moments of tragi-camp delight" (Washington Post).
About the Author
---
Josh Kilmer-Purcell is the bestselling author of the memoir I Am Not Myself These Days and the novel Candy Everybody Wants, and the star of Planet Green's documentary television series The Fabulous Beekman Boys. He and his partner, Brent Ridge, divide their time between Manhattan and the Beekman Farm.
Praise For…
---
"I laughed. I cried. I laughed again. I Am Not Myself These Days is tawdry and brilliantly witty."
— Simon Doonan

"A glittering, bittersweet vision of an outsider who turned himself into the life and soul of the party. Kilmer-Purcell's cast is part freak-show, part soap-opera, but his prose is graced with such insight and wit that the laughter is revelatory, and the tears—and there are tears to be shed along this extraordinary journey—are shed for people in whom everybody will find something of themselves. In a word, wonderful."
— Clive Barker

"Absolutely hilarious and heartbreaking and heartfelt."
— Armistead Maupin, author of Tales of the City

"[Kilmer-Purcell's] trenchant memoir captures the madcap rush of the once-closeted arriviste's first brush with city life, a fall from innocence that still haunts him. . . he retells the saga. . . with levelheaded grace."
— Entertainment Weekly

"This life-altering (and ultimately heartbreaking) love story crawls deep into your veins, keeping you up late into the night and distracting you during the day."
— Zink Magazine

"A painfully dysfunctional love story. . . that many readers will likely be able to relate to."
— Out Magazine

"A delicate narrative that spares not an ounce of pain but never once aims for contrition. Effortlessly entertaining yet still heartfelt; the romance of life as an escape artist."
— Kirkus Reviews

"The exact, unpitying detail with which Kilmer-Purcell depicts his downward spiral makes it impossible to look away."
— Publishers Weekly

"At once a sensational memoir and. . . a universal love story."
— Adweek

"Plenty of dishy anecdotes and moments of tragi-camp delight."
— Washington Post

"Decadent and delirious, weird and wonderful."
— The New York Blade

"One hell of a spellbinding read."
— Chicago Sun-Times

"A very entertaining read… as tart and funny as a Noel Coward play, for Kilmer-Purcell is especially good at dialogue, and, as in Coward's best plays, under the comedy lies the sad truth that even at our best, we are all weak, fallible fools. Again and again in this rich, adventure-filled book, Kilmer-Purcell illustrates the truth of Blake's proverb, 'The road of excess leads to the palace of wisdom.'"
— Booklist

"Kilmer-Purcell acheives the near-impossible task of getting jaded readres to root for this screwed-up pair to get their acts together and salvage their union."
— Dallas Voice

"Filled with witty dialogue, confusing awakenings, and extraordinary situations. . . . Readers will find this tale of good-boy-turned-bad-drag-queen darkly hilarious and entertaining."
— Library Journal

" Through the varied and raucous details of his life experience, Kilmer-Purcell ...renders himself more accessible to all readers."
— InsideOut Nashville

"There's plenty of drama in this story of two intelligent, basically sweet guys who flirt a little too closely with the sordid underbelly of the big city. But Kilmer-Purcell maintains enough perspective throughout to keep it funny and wise."
— Metro

"The brilliance of Josh Kilmer-Purcell's new noiresque memoir lies beyond Aqua and her escapades. . . . It is the earnest (at times gentle) love story of Josh and Jack that captures universal emotions. . . . Kilmer-Purcell captures a certain universality in the emotional depth of I Am Not Myself These Days and, in so doing, renders himself more accessible to all readers."
— InsideOut Nashville

"An exotic, whirlwind tale of an unconventional life."
— Nashville City Paper

"Just being himself is a perfect score for ex-drag diva and debuting writer, Josh Kilmer-Purcell...a talented new voice."
— Buzz Magazine

"While Kilmer-Purcell's way of life may be uncommon, his feelings of love, betrayal, loss and hope are universal."
— Jezebel Magazine

"Though Aqua is retired, her wit lives on in I AM NOT MYSELF THESE DAYS, with priceless one-liners aplenty."
— HX magazine