Operational Updates
Click HERE for the most updated hours, customer guidelines and updates to store policy.
Black Dahlia Avenger: A Genius for Murder (Paperback)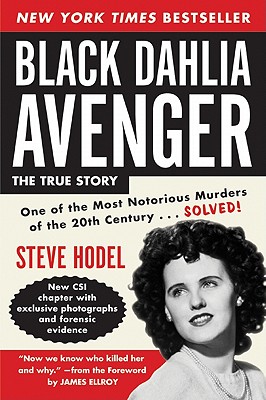 $15.95
Email or call for price
Description
---
In 1947, California's infamous Black Dahlia murder inspired the largest manhunt in Los Angeles history. Despite an unprecedented allocation of money and manpower, police investigators failed to identify the psychopath responsible for the sadistic murder and mutilation of beautiful twenty-two-year-old Elizabeth Short. Decades later, former LAPD homicide detective-turned-private investigator Steve Hodel launched his own investigation into the grisly unsolved crime -- and it led him to a shockingly unexpected perpetrator: Hodel's own father.
A spellbinding tour de force of true-crime writing, this newly revised edition includes never-before-published forensic evidence, photos, and previously unreleased documents, definitively closing the case that has often been called "the most notorious unsolved murder of the twentieth century."
Praise For…
---
"The best nonfiction book about L.A. crime I have ever read."
-Gerald Petievich, author of The Sentinel and To Live and Die in L.A.

"This unsparing, chilling account of the actions of a perfect psychopath grips to the end."
-Toronto Globe and Mail

"Hodel tells the story well and with incredible objectivity."
-Richmond Times-Dispatch

"We can only glimpse who Betty Short was--but now we know who killed her, and why."
--- James Ellroy, from his foreword

"A fascinating family psychodrama; we watch [Hodel's] image of his father morph from flawed but lovable ladies' man to monster."
-Newsweek

"George Hodel, I think is fit company for some of noir's most civilized villains."
---David Thomson, New York Times Book Review

"Former Los Angeles police detective Steve Hodel has written one of the most compelling true-crime books of all time."
-Seattle Weekly

"[Hodel] has written an intensely readable account…Has [he] solved the case? I think so."
---Jon L. Breen, Weekly Standard

"The most haunting murder mystery in Los Angeles county...has finally been solved."
--- Stephen R. Kay, L.A. County Head Deputy District Attorney