It Happened One Night (Mass Market)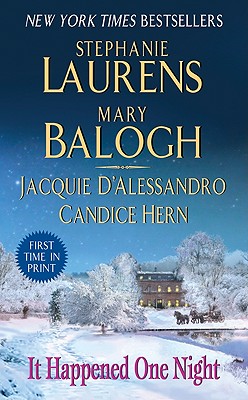 $8.99
Backordered or Out of Print
Description
---
It Happened One Night . . . and nothing was ever the same again!
Once upon a time, four superstar storytellers—New York Times bestselling authors Stephanie Laurens and Mary Balogh, along with Jacquie D'Alessandro and Candice Hern—came up with a delicious idea. What if they each wrote a story about a proper young lady stranded at a remote inn away from society's constraints? What would happen? And how long would it take for her to give in to desire?
In these four amazing tales, four heroines will come face-to-face with the men who got away . . . only to discover that, instead of anger, there is still a passionate connection that cannot be denied. And while each of their lives is quite different, and their pasts utterly unique, they will all make a common discovery—that one night can change everything . . . forever.
About the Author
---
#1 New York Times bestselling author Stephanie Laurens began writing as an escape from the dry world of professional science, a hobby that quickly became a career. Her novels set in Regency England have captivated readers around the globe, making her one of the romance world's most beloved and popular authors.
New York Times bestselling, multi-award-winning author Mary Balogh grew up in Wales, land of sea and mountains, song and legend. She brought music and a vivid imagination with her when she came to Canada to teach. There she began a second career as a writer of books that always end happily and always celebrate the power of love.
Growing up on Long Island, New York, Jacquie D'Alessandro fell in love with romance at an early age. She dreamed of being swept away by a dashing rogue riding a spirited stallion. When her hero finally showed up, he was dressed in jeans and drove a Volkswagen, but she recognized him anyway. They married after both graduating from Hofstra University and are now living their happily-ever-afters in Atlanta, Georgia. They have one grown son, who is a dashing rogue in the making. The author of more than thirty historical and contemporary romances, Jacquie loves to hear from readers and can be contacted through her website.
Candice Hern is the award-winning author of historical romances set during the English Regency, a period she knows well through years of collecting antiques and fashion prints of the era. She travels to England regularly, always in search of more historical and local color to help bring her books to life.