Operational Updates
Click HERE for the most updated hours, customer guidelines and updates to store policy.
Return of the God Hypothesis: Three Scientific Discoveries That Reveal the Mind Behind the Universe (Hardcover)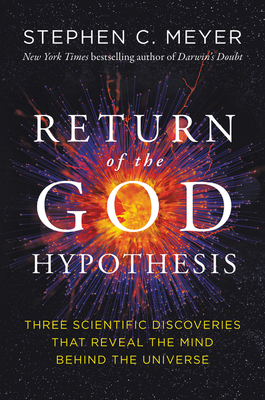 $29.99

NOT ON OUR SHELVES- available for order, usually ships in 1-5 days
Description
---
The New York Times bestselling author of Darwin's Doubt presents groundbreaking scientific evidence of the existence of God, based on breakthroughs in physics, cosmology, and biology.
Beginning in the late 19th century, many intellectuals began to insist that scientific knowledge conflicts with traditional theistic belief—that science and belief in God are "at war." Philosopher of science Stephen Meyer challenges this view by examining three scientific discoveries with decidedly theistic implications. Building on the case for the intelligent design of life that he developed in Signature in the Cell and Darwin's Doubt, Meyer demonstrates how discoveries in cosmology and physics coupled with those in biology help to establish the identity of the designing intelligence behind life and the universe. 
Meyer argues that theism—with its affirmation of a transcendent, intelligent and active creator—best explains the evidence we have concerning biological and cosmological origins. Previously Meyer refrained from attempting to answer questions about "who" might have designed life. Now he provides an evidence-based answer to perhaps the ultimate mystery of the universe. In so doing, he reveals a stunning conclusion: the data support not just the existence of an intelligent designer of some kind—but the existence of a personal God. 
About the Author
---
Stephen C. Meyer received his Ph.D. from the University of Cambridge in the philosophy of science after working as an oil industry geophysicist. He now directs the Center for Science and Culture at the Discovery Institute in Seattle, Washington. He authored Signature in the Cell, a (London) Times Literary Supplement Book of the Year.
Praise For…
---
"A comprehensive and lucid argument for theism as the best explanation for the scientific evidence. Stephen Meyer has a true gift for conveying complex concepts clearly."
— Dr. Robert Kaita, former Principal Research Physicist, Princeton Plasma Physics Laboratory

"A meticulously researched, lavishly illustrated, and thoroughly argued case against the new atheism. Even if your mind is made up—especially if it is—Meyer's refreshing take on the origins of the Universe is a joy to read. You may not come away convinced, but you'll be richer for the journey."
— Dr. Brian Keating, Chancellor's Distinguished Professor of Physics, University of California, San Diego, and author of Losing the Nobel Prize.

"Scientist and philosopher Meyer has discussed intelligent design previously but has not gone as far as he does here in terms of making the case for God. He does so citing new evidence from cosmology, physics, and biology, especially as it applies to DNA research. Meyer knows how to take readers' hands and lead them through the history before showing how new discoveries can be used to undermine the cases made by anti-design theorists such as Richard Dawkins, Neil deGrasse Tyson, and even Bill Nye the Science Guy. Agree or disagree, there's lots to ponder here."
— Booklist

"Meyer's book is a masterclass, lucidly exploring every alternative from multiple points of view, while persuasively showing that the God Hypothesis is the best explanation of our finely-tuned, information-rich universe. It does irreparable damage to atheist rhetoric."
— John C. Walton, PhD, DSc, Fellow of the Royal Society of Edinburgh, Research Professor of Chemistry, University of St. Andrews

"No one in my experience can explicate such complex material with the grace and clarity that seem so effortless to Stephen Meyer. With meticulous rational analysis of the latest discoveries in cosmology, physics, and biology, Meyer confirms a truth ideologues find too frightening to consider. Their ad hominem attacks on his brilliant work, confirm its importance."
— Dean Koontz, New York Times #1 bestselling author

"Reviewing all relevant evidence from cosmology to molecular biology, Meyer builds an irrefutable 'case for God.' The logic throughout is compelling and the book almost impossible to put down. A masterpiece. Easily the best, most lucid, comprehensive defense of the 'God hypothesis' in print. A unique tour de force. "
— Michael Denton, M.D., Ph.D., former Senior Research Fellow, Biochemistry, University of Otago, Author, Nature's Destiny

"More than 400 pages of straightforward, engrossing prose, close reasoning, intellectual history, and cosmology, all in the interest of asking the most important questions about existence itself. An astonishing achievement."
— Peter Robinson, Murdoch Distinguished Policy Fellow at the Hoover Institution, Stanford University, and former White House speechwriter

"With this book, Stephen Meyer earns a place in the pantheon of distinguished, non-reductive natural philosophers of the last 120 years, from the great French savant Pierre Duhem, through A.N. Whitehead, to Michael Polanyi…A profound, judicious book of great value bringing to bear advanced, scientific expertise and philosophical, integrative wisdom."
— Dr. Michael D. Aeschliman, emeritus professor Boston University, author The Restoration of Man: C.S. Lewis and the Continuing Case Against Scientism.


"Meyer masterfully summarizes the current evidence from cosmology, physics and biology showing that the more we learn about the universe and nature, the more relevant the 'God hypothesis' becomes." 
— Dr. Anthony Futerman, Joseph Meyerhoff Professor of Biochemistry, Weizmann Institute of Science, Israel

"This book makes it clear that far from being an unscientific claim, intelligent design is valid science."
— Brian Josephson, Emeritus Professor of Physics, University of Cambridge, Fellow of the Royal Society Nobel Laureate in Physics


"When you don't understand living systems, ignorance permits discounting a Creator.  But when the scientific details are thrust upon you, you're forced to ask: How on Earth did that happen? Thus, the God hypothesis returns.  Stephen Meyer convincingly drives the point home: How could it be this way?  Only God!"
— James M. Tour, Ph.D., T. T. and W. F. Chao Professor of Chemistry and Professor of Nano-Engineering, Rice University.

"Stephen Meyer is a genuine renaissance person.  His work tears down many purported barriers between science, philosophy, and religion.  An important book of both breadth and depth."
— Dr. Henry F. Schaefer III, Graham Perdue Professor of Chemistry, Director, Center for Computational Quantum Chemistry, University of Georgia

"Dr. Meyer does a superb job in accurately describing the physics and cosmology that show the universe had a beginning. He also convincingly shows that quantum mechanics will not eliminate a cosmological singularity."
— Dr. Frank Tipler, Professor of Physics, Tulane University; Co-Author, The Anthropic-Cosmological Principle (Oxford University Press)

"A truly superb analysis of the relevant evidence. Stephen Meyer convincingly demonstrates that the God hypothesis is not just an adequate explanation for the origin of our fine-tuned universe and biosphere: it is the best explanation."
— David J Galloway, MD DSc FRCS FRCP, Honorary Professor of Surgery at College of Medical, Veterinary & Life Sciences University of Glasgow; Former President, Royal College of Physicians and Surgeons of Glasgow.

"A pleasure to read, [Meyer's] inviting voice brings light to bear on complicated and profoundly influential subjects. With this abundantly rich book, Meyer completes a compelling trilogy which refutes the prevailing materialism of the intelligentsia." 
— Terry Scrambay, journalist and reviewer for New Oxford Review

"I commend Meyer's book to those who believe science and religion are in conflict, and indeed to anyone seeking answers to the ultimate questions."
— The Claremont Review of Books