Black Dog: Hellhound Chronicles (Paperback)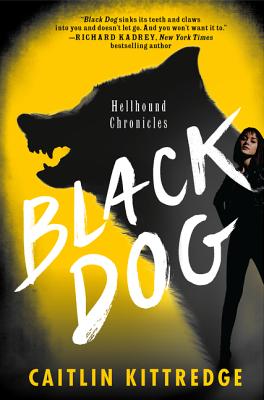 $14.99
Backordered or Out of Print
Other Books in Series
This is book number 1 in the Hellhound Chronicles series.
Description
---
From the mind of Caitlin Kittredge, the award-winning author of the Iron Codex trilogy and Vertigo comic Coffin Hill, comes Black Dog, the first book in a new urban fantasy series about revenge and hell...it's Kill Bill with demons!
Ava has spent the last hundred years as a hellhound, the indentured servant of a reaper who hunts errant souls and sends them to Hell. When a human necromancer convinces her to steal her reaper's scythe, Ava incurs the wrath of the demon Lilith, her reaper's boss.
As punishment for her transgression, Lilith orders Ava to track down the last soul in her reaper's ledger . . . or die trying.
But after a hundred years of servitude, it's time for payback. And Hell hath no fury like an avenging Ava. . . .
About the Author
---
Caitlin Kittredge has written several comic books and novels for adults and teens. She spends her time in Massachusetts fixing up her 1881 Victorian house, which she shares with several spoiled cats and a vast collection of geeky ephemera. You can follow her on Twitter @caitkitt.
Praise For…
---
"With an unrelenting pace, wildly imaginative details and moments of shocking emotion, this is a book - and surely a series - that is going to earn an eager following." — RT Book Reviews (top pick)
"A fast-paced read perfect for lovers of dark fantasy." — Kirkus Reviews
"...Kittredge employs an enjoyable variation on the standard urban fantasy worldbuilding." — Library Journal
"That was wicked! Couldn't put it down. Black Dog is off the chain and Kittredge is in top form in this dark, twisty trip down a gritty road to Hell." — Kat Richardson, bestselling author of Greywalker
"Caitlin Kittredge at her ferocious best. Black Dog sinks its teeth and claws into you and doesn't let go. And you won't want it to." — New York Times bestselling author Richard Kadrey
"A riveting, fun and dangerous ride with angels, demons, necromancers and a badass heroine to root for!" — Melissa de la Cruz, New York Times bestselling author of Witches of East End
"Some books steal your heart, but Black Dog will steal your soul. Caitlin Kittredge has given the urban fantasy genre a kick in the face." — Chuck Wendig, author of Blackbirds