The Earl Takes All (Mass Market)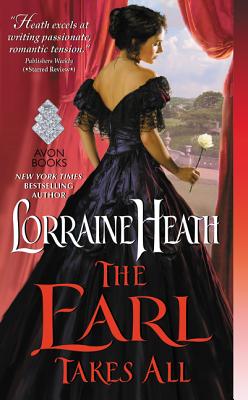 $8.99
Backordered or Out of Print
Description
---
One summer night, Edward Alcott gives in to temptation and kisses Lady Julia Kenney in a dark garden. However, the passion she stirs within him is best left in the shadows as she weds his twin, the Earl of Greyling. But when tragedy strikes, to honor the vow he makes to his dying brother, Edward must pretend to be Greyling until the countess delivers her babe.
After her husband returns from a two-month sojourn, Julia finds him changed. Bolder, more daring, and more wicked—even if he does limit their encounters to kisses. With each passing day, she falls more deeply in love.
For Edward the embers of desire sparked on that long-ago night are quickly rekindled. He yearns to be her husband in truth. But if she discovers his ruse, she will despise him—and English law prevents him from marrying his brother's widow. Yet he must dare to risk everything and reveal his secrets if he is to truly take all.
About the Author
---
Lorraine Heath always dreamed of being a writer. After graduating from the University of Texas, she wrote training manuals, press releases, articles, and computer code, but something was always missing. When she read a romance novel, she not only became hooked on the genre, but quickly realized what her writing lacked: rebels, scoundrels, and rogues. She's been writing about them ever since. Her novels have been recognized with numerous industry awards and have appeared on the USA Today and New York Times bestseller lists.
Praise For…
---
"Edward's attempts to avoid cuckolding his brother are tantalizing for both Julia and the reader, and their conflicted love is well-drawn and compelling. A steamy romance that uses the strict rules of Regency Britain to excellent effect." — Kirkus Reviews (starred review)
"Heath draws together a couple whose genuine passion and love are hard to resist in her second Hellions of Havisham Regency (after Falling into Bed with a Duke)…Readers will eagerly follow Edward and Julia's pursuit of an unusual happy ending." — Publishers Weekly
Heath is a consummate storyteller, whose characters leap from the pages. Their powerful emotions and intense passions translate exceptionally well to readers, allowing them to become deeply involved in the fascinating plot and leaving them breathless and wanting more. — RT Book Reviews (top pick) - 4.5 stars - Praise for LORD OF TEMPTATION
Deep emotions, sensuality and pathos combine and the healing power of love triumphs in another Heath masterpiece — Romantic Times BOOKclub, 4 1/2 stars
"The Duke of Weddington is perfect hero material. Historical readers will clamor for more." — Liz Carlyle
"She writes the most powerfully moving love stories in romance today." — Jill Barnett, RITA Award-Winner
"Sensitive, funny and altogether enchanting!" — Dallas News
"Master storyteller Heath perfectly threads together emotional power and deep romance. Taking her cue from Dickens' classic Oliver Twist, she reinvents the story so we see what might have happened to the older Oliver. Few writers engage readers' hearts and minds as beautifully as Heath certainly does." Top Pick — Romantic Times BOOKclub
"Lorraine Heath is an incredible talent!" — Katherine Sutcliffe, author of HOT AUGUST MOON
"Lorraine Heath has long been an author readers trust when they want to read a heart-warming historical, one that will entertain them and make them shed a tear or two. That's probably because the emotions in Heath's stories are genuine." — Happy Ever After blog on USA Today
"Her powerfully moving love stories will touch your heart and soul. . .romance at its best." — Jill Barnett
"Heath steals your heart, then takes you on a journey that will leave you torn between tears and joy." — Christina Dodd
"...wonderfully entertaining... Heath adeptly juggles numerous new and familiar characters as she sweeps fans of her Regency novels into the Victorian era." — Publishers Weekly praise for FALLING INTO BED WITH A DUKE
"She writes from the heart and is shows!" — The Literary Times
Lorraine Heath's books are always magic, but she's at the top of her writing game with IN BED WITH THE DEVIL. You won't be able to put it down! — Cathy Maxwell
"Only a storyteller of Heath's consummate skills could pull off such an unconventional plotline, [...] with compassion and elegance, reminding readers of the redeeming aspect of love. [...] her skillful, emotional writing compels them to keep reading to discover how, against all odds, there can be a happily ever after." — RT Book Reviews (top pick)