Hot in Hellcat Canyon (Mass Market)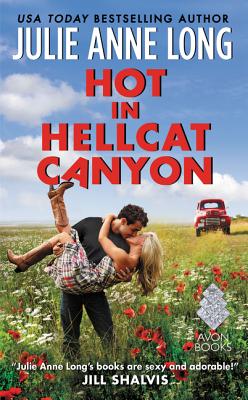 $7.99
Backordered or Out of Print
Description
---
A broken truck, a broken career, and a breakup heard around the world land superstar John Tennessee McCord in Hellcat Canyon. Legend has it that hearts come in two colors there: gold or black. And that you can find whatever you're looking for, whether it's love . . . or trouble. JT may have found both in waitress Britt Langley.
His looks might cause whiplash and weak knees, but Britt sees past JT's rough edge and sexy drawl to a person a lot like her: in need of the kind of comfort best given hot and quick, with clothes off and the lights out.  
Her wit is sharp but her eyes and heart—not to mention the rest of her—are soft, and JT is falling hard. But Britt has a secret as dark as the hills, and JT's past is poised to invade their present. It's up to the people of Hellcat Canyon to help make sure their future includes a happily ever after.
 "Julie Anne Long's writing glows with emotional intensity and strong, passionate characterization." JAYNE ANN KRENTZ 
About the Author
---
USA Today bestselling author and Rita® Award winner Julie Anne Long's books have been translated into eighteen languages, nominated for numerous awards, and have appeared on dozens of "Best of" lists. NPR named her Pennyroyal Green series as one of the Top 100 romance series of all time. She currently lives in Northern California.
Praise For…
---
"A star herself in the historical-romance world, Long makes a flawless transition into contemporary romance with a wonderfully sweet yet also intensely sexy love story that brilliantly showcases her deliciously sharp sense of humor and rare gift for creating realistically quirky, wonderfully engaging characters." — Booklist (starred review)
"Bestseller Long [...] has a brilliant, quirky style that gives her first contemporary a delightful gleam. Her clever phrases make her small-town setting and characters seem fresh and new. [...] This laugh-out-loud treat is warmly emotional and richly satisfying." — Publishers Weekly (starred review)
"This book is a treat to read. The author's love of wordplay is evident in the snappy dialogue [...] and it's damn sexy. Long's ability to create a love story that leaps off the page is as impressive [...] Let's hope she keeps cranking them out for a long time." — Kirkus Reviews
"Julie Anne Long's books are sexy and adorable!" — New York Times and USA Today bestselling author Jill Shalvis
"Julie Anne long is a fantastic writer." — New York Times and USA Today bestselling author Jayne Ann Krentz
"Julie Anne Long's writing glows with emotional intensity and strong, passionate characterization." — New York Times and USA Today bestselling author Jayne Ann Krentz
Funny, sexy, heartwarming, Long moves seamlessly into the contemporary market. — New York Times bestselling author Lori Wilde
Sizzlingly smart! Long's fresh new contemporary voice rocks! — NYT bestselling author Susan Andersen
"This is romantic fantasy at its purest [...] JT and Britt are clever and funny, and the book has all the hallmarks of Long's historical novels — charming secondary characters, delightful dialogue and a sigh-inducing ending." — Sarah MacLean for the Washington Post, Named one of the Best Romances of Early Summer