Wild at Whiskey Creek: A Hellcat Canyon Novel (Hot in Hellcat Canyon) (Mass Market)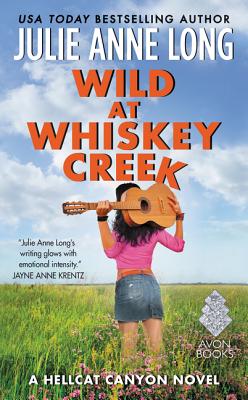 $7.99
Backordered or Out of Print
Description
---
Everyone knows the Greenleaf family puts the "Hell" in Hellcat Canyon—legend has it the only way they ever leave is in a cop car or a casket. But Glory Greenleaf has a different getaway vehicle in mind: her guitar. She has a Texas-sized talent and the ambition (and attitude) to match, but only two people have ever believed in her: her brother, who's in jail, and his best friend . . . who put him there.
Sheriff Eli Barlow has secretly been in love with Glory since he was twelve years old. Which is how he knows her head is as hard as her heart is soft—and why she can't forgive him for fracturing her family . . . or forget that night they surrendered to an explosive, long-simmering passion. But when a betrayal threatens Glory's big break, Eli will risk everything to make it right . . . because the best way to love the girl from Whiskey Creek might mean setting her free forever.
About the Author
---
USA Today bestselling author and Rita® Award winner Julie Anne Long's books have been translated into eighteen languages, nominated for numerous awards, and have appeared on dozens of "Best of" lists. NPR named her Pennyroyal Green series as one of the Top 100 romance series of all time. She currently lives in Northern California.
Praise For…
---
Long's second foray into contemporary romance (after Hot in Hellcat Canyon) continues to impress with sparkling prose, witty scenes of small-town California, and meaningful romantic conflict... this sweet tale surprises and satisfies. — Publishers Weekly (starred review)
Long's second foray into contemporary romance is a study in longing and angst... the journey... is exquisite, combining humor and intensity with consummate writing and storytelling and a musical leitmotif that ratchets up the sexual tension as effectively as Bolero. A splendid, delectable romance. — Kirkus Reviews (starred review)
"A sassy, talented, tough-minded gal who knows what she wants and a caring, by-the-book guy who always has her back finally give in to their feelings in this poignant, intense, character-driven story. The musical descriptions are so vivid... Beautifully done." — Library Journal (starred review)
"Julie Anne Long knows how to sink deep into a specific character's viewpoint... Character-driven story at its best, Long's latest combines emotional depth and oh-so-human absurdity with her usual deftness." — RT Book Reviews (top pick)
Praise for Hot in Hellcat Canyon: "Sizzlingly smart! Long's fresh new contemporary voice rocks! — NYT bestselling author Susan Andersen
Funny, sexy, heartwarming, Long moves seamlessly into the contemporary market. — New York Times bestselling author Lori Wilde
"Julie Anne Long's writing glows with emotional intensity and strong, passionate characterization." — New York Times and USA Today bestselling author Jayne Ann Krentz
"Julie Anne Long's books are sexy and adorable!" — New York Times and USA Today bestselling author Jill Shalvis
"Julie Anne long is a fantastic writer." — New York Times and USA Today bestselling author Jayne Ann Krentz