No Cure for Love: A Novel (Paperback)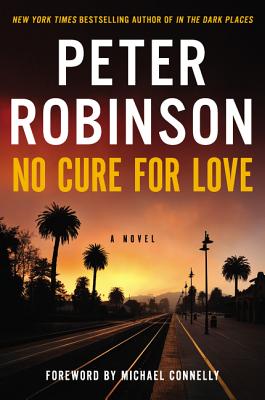 $14.99
Backordered or Out of Print
Description
---
Featuring a foreword by Michael Connelly, this relentlessly suspenseful thriller from the New York Times bestselling and Edgar award-winning author of the Inspector Banks novels marks the first time that Peter Robinson has set a novel in America. 
Sarah Broughton has come a long way. She's the star of a hit cop show on TV. She lives in a beautiful California beach house. And—most importantly—she's put her dark past behind her… as well as her old name, Sally Bolton. No need for anyone to know about that.
When Sarah begins receiving letters mysteriously signed with the letter "M," she thinks they're from a harmless admirer… until her real name appears in the third letter. And then she finds that name inscribed in the sand near her home – next to a body.
The message is clear: Someone is watching Sarah's every move. Someone so obsessed with her that he won't stop at just one murder in order to prove his love.
Panicked, Sarah turns to Detective Arvo Hughes of the LAPD, a man who specializes in hunting down the most dangerous stalkers. But nothing in Hughes' experience has prepared him for the mastermind he's up against. For the killer, there's no cure for love. And for Sarah and Hughes, there's no way out.
About the Author
---
One of the world's most popular and acclaimed writers, Peter Robinson is the best-selling, award-winning author of the DCI Banks series; he has also written two short-story collections and three stand-alone novels, which combined have sold more than ten million copies around the world. Among his many honors and prizes are the Edgar Award, the CWA (UK) Dagger in the Library Award, and the Swedish Crime Writers' Academy Martin Beck Award.