First Star I See Tonight: A Novel (Hardcover)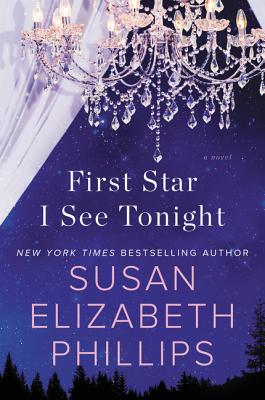 $26.99
Backordered or Out of Print
Description
---
A no-nonsense sports hero and a feisty female detective go head-to-head in this funny, fresh, seductive novel from Susan Elizabeth Phillips, the award-winning New York Times bestselling author known for her unforgettable characters, heartfelt emotion, and laugh-out-loud humor.
Piper Dove is a woman with a dream—to become the best detective in the city of Chicago. First job? Trail former Chicago Stars quarterback, Cooper Graham. The problem? Graham's spotted her, and he's not happy.
Which is why a great detective needs a first rate imagination. "The fact is ... I'm your stalker. Not full-out barmy. Just ... mildly unhinged."
Piper soon finds herself working for Graham himself, although not as the bodyguard he refuses to admit he so desperately needs. Instead, he's hired her to keep an eye on the employees at his exclusive new nightclub. But Coop's life might be in danger, and Piper's determined to protect him, whether he wants it or not. (Hint: Not!) If only she weren't also dealing with a bevy of Middle Eastern princesses, a Pakistani servant girl yearning for freedom, a teenager who just wants to fit in, and an elderly neighbor demanding that Piper find her very dead husband.
And then there's Cooper Graham, a legendary sports hero who always gets what he wants—even if what he wants just might be an intrepid detective hell bent on proving she's as tough as he is.
From the bustling streets of Chicago to a windswept lighthouse on Lake Superior to the glistening waters of Biscayne Bay, two people who can't stand to lose will test themselves and each other to discover what matters most.
About the Author
---
Susan Elizabeth Phillips is a New York Times, Publisher's Weekly, and USA Today bestselling author, known for her lighthearted, sparkling, and addictive contemporary romance novels which include the Chicago Stars series, the Wynette, Texas series, and multiple stand-alone books. She has published more than twenty books including It had to be You, First Star I See Tonight, and Dance Away with Me. Her novels have been published in more than 30 languages and appear on bestseller lists worldwide. Visit Susan's website at www.susanelizabethphillips.com.
Praise For…
---
"First Star I See Tonight is Susan Elizabeth Phillips at her best--funny, charming and un-put-downable. Oh, and I call dibs on Cooper!" — #1 New York Times bestselling author Susan Mallery
"FIRST STAR I SEE TONIGHT by Susan Elizabeth Phillips is so hot that when I read it I had to take a cold shower. Whew! I loved it!" — Dorothea Benton Frank, New York Times bestselling author of All Summer Long
"In FIRST STAR I SEE TONIGHT, Susan Elizabeth Phillips writes about the kind of strong, self-assured women I love! I found myself cheering for this heroine with her unwavering ethics from the first page to the last!" — Julie Garwood, author of The Bride
"I always laugh my head off when I read Susan Elizabeth Phillips' novels. She never fails to leave a smile on my face." — Catherine Coulter, author of Insidious
"Fall into the addictive voice of Susan Elizabeth Phillips -- compulsively readable and deeply satisfying! Re-entering the world of the Chicago Stars is like a beloved friend come to call." — Robyn Carr, author of Virgin River
"First Star I See Tonight is a perfect example of why Susan Elizabeth Phillips is so popular. The characterization is spot on...The ending made me smile even though I was going into mourning because—you know—it ended." — Linda Howard New York Times bestselling author
"I love Susan Elizabeth Phillips' books. Her writing is infused with intense emotion, sharp characterization, subtle wit and a rare energy that is absolutely irresistible. When I open one of her books I know I'm in for an exhilarating ride. This is women's fiction at its best." — Jayne Ann Krentz, New York Times bestselling author of River Road
"First Star I See Tonight is Susan Elizabeth Phillips at her very best, and there's no one better at writing romantic fiction. Susan is the absolute queen of contemporary romance." — Kristin Hannah, #1 New York Times bestselling author of The Nightingale
"This thoroughly enjoyable novel delivers a swift kick to the heart—an essential summer read" — Kirkus Reviews (starred review)
"...Phillips' literary star shines bright in her latest dazzling (and long-awaited) installment...Writing with a deceptively easy sense of grace, equally enhanced by her distinctively dry sense of wit, Phillips fashions an irresistibly sexy love story that is guaranteed to hit every romance reader's sweet spot." — Booklist (starred review)
Laugh-out-loud funny, insightful, and touching, this latest gem from one of the genre's best is a must-buy for all library collections. — Library Journal (starred review)