Under the Wire: Bad Boys Undercover (Mass Market)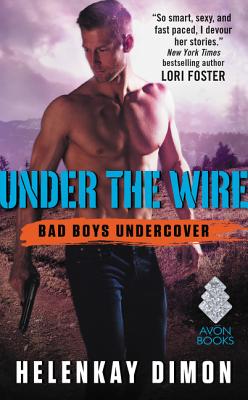 $7.99
Backordered or Out of Print
Other Books in Series
Description
---
The Bad Boys of the Alliance—a top-secret military security agency—are back for more in HelenKay Dimon's sexy, action-packed series
Only one thing could pull Reid Armstrong away from a vacation he's earned with every muscle in his finely honed body—learning that his former fiancée has disappeared on a top-secret science expedition in the middle of nowhere. Second chances don't come often in Reid's business, and he needs to prove his worth to Cara Layne or die trying.
Waking up to find her camp destroyed and her colleagues missing, Cara is a walking target. She can't trust anyone, least of all Reid. Even if his skills get them out alive, he's a heartache waiting to strike twice. Yet being in close proximity proves their connection burns hotter than ever.
The body count is rising, the enemy is getting closer, and soon Reid will be right back in the position that cost him everything—forced to choose between the woman he loves, and the job that's his only hope of saving them both . . .
About the Author
---
Helenkay Dimon spent the years before becoming a romance author as a . . . divorce attorney. Not the usual transition, she knows. Good news is she now writes full time and is much happier. She has sold over thirty novels, novellas, and shorts to numerous publishers. Her nationally bestselling and award-winning books have been showcased in numerous venues, and her books have twice been named "Red-Hot Reads" and excerpted in Cosmopolitan magazine. But if you ask her, she'll tell you the best part of the job is never having to wear pantyhose again.
Praise For…
---
Nail-biting suspense and steamy romance are the mainstays of this novel, as the protagonists must discover whether their attractions stems from deeper emotions. — Publishers Weekly praise for FACING FIRE
A delight." — Christina Dodd, New York Times bestselling author
"The latest high-adrenaline installment in Dimon's Bad Boys Undercover series delivers plenty of testosterone-fueled action and smoking-hot sexual chemistry between a rough, tough, alpha hero and a strong-willed heroine, who is more than his match. Give this one to fans of Suzanne Brockmann or Cherry Adair." — Booklist, praise for FALLING HARD
"So smart, sexy, and fast paced, I devour her stories." — New York Times bestselling author, Lori Foster
"Few people write romantic suspense like Dimon, as this pulse-pounding, complex opening to Bad Boys Undercover proves." — Romantic Times BOOKclub - 4 stars
"Every time I pick up a HelenKay Dimon book I fall in love. With sexy heroes and heart-stopping intrigue, the stories pull me in and don't let go until the final word." — New York Times Bestseller Vivian Arend
"Emotionally charged and unapologetically sexy! Sexy, emotional, funny...Dimon gives it all to her readers"" — New York Times Bestseller Jill Shalvis
"Dimon's second Bad Boys Undercover novel is a taut, unpredictable and pitch-perfect addition to a sizzling, daring series…Their connection is instant and adds levity to this pulse-pounding adventure, but it's very real and profound, which makes their struggles that much more gripping." — Romantic Times BOOKclub, praise for FALLING HARD
Sharp writing and sexy romance sizzle… — John Charles, Chicago Tribune
"She's a strong, independent woman [...] the perfect match for the emotionally wounded, physically powerful Reid, [...] simmering sexual tension between them propels the novel swiftly forward. Dimon has deftly combined sizzling romance with covert operations in a sexy thriller that will leave readers searching her backlist and eagerly anticipating future installments." — Publishers Weekly
"Dimon brings a heart-pounding mix of sexy romance and nonstop action to an intriguing plot, and the combination of smart storytelling and characters who share red-hot chemistry and believable conflict makes for lively, compelling reading. A sharp, complex, and intense romantic-suspense novel." — Kirkus Reviews
"With her remarkable flair for fusing a fast-paced, adrenaline-rich plot and a super-sexy love story, Dimon is quickly becoming the go-to author for readers who like their romances action-packed and red-hot." — Booklist