Indecent Exposure: The Academy (Mass Market)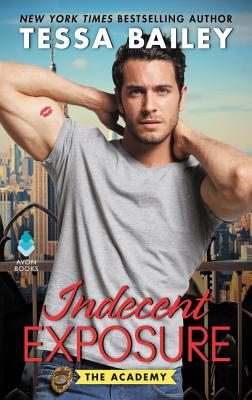 Description
---
One of Amazon's Best Romances of February
One of Bookpage's Best Romances of 2018
"Sexy and emotional..." (Washington Post - Best Romance Novels of February)
Is there a problem, Officer?
Jack Garrett isn't a police officer yet, but there's already an emergency. His new firearms instructor—the one who just dropped every jaw in the academy gym—is the same sexy Irish stranger Jack locked lips with last night. The Olympic gold medalist and expert markswoman is now officially off-limits, but Jack's never cared much for rules . . .
Katie McCoy's been cooped up in a shooting range for too long. A wild love affair is just what she needs to let loose, though she never imagined it would be with her smokin' hot trainee. She cannot get involved with Jack—but a quick fling? Perfect. Falling hard for a charismatic recruit with an equal amount of sex appeal and secrets? Bloody stupid.
Jack's charmed the pants off plenty of women (literally), yet few have ever looked beyond his perfect surface. Until Katie. He'll do anything to keep her in his life . . . except tell her about his past. But a tiny lie of omission never hurt anyone, right?
About the Author
---
New York Times bestselling author Tessa Bailey is originally from Carlsbad, California. The day after high school graduation, she packed her yearbook, ripped jeans, and laptop, and drove cross-country to New York City in under four days. Her most valuable life experiences were learned thereafter while waitressing at K-Dees, a Manhattan pub owned by her uncle. Inside those four walls, she met her husband, best friend, and discovered the magic of classic rock, managing to put herself through Kingsborough Community College and the English program at Pace University at the same time. Several stunted attempts to enter the work force as a journalist followed, but romance writing continued to demand her attention.

She now lives in Long Island, New York with her husband and daughter. Although she is severely sleep-deprived, she is incredibly happy to be living her dream of writing about people falling in love.
Praise For…
---
"Tessa Bailey's alpha heroes will make you combust!"
— Laura Kaye, New York Times and USA Today bestselling author

"Bailey's humor, realism, and great writing make this a fun, compelling read… Blazing hot sex scenes heighten the tension of this emotional exploration of passion and love, tempered by moments of winsome romance and slapstick comedy."
— Kirkus Reviews

"Tessa Bailey's books completely, utterly, totally wreck me."
— Sophie Jordan, New York Times bestselling author

"Hot alpha heroes and the heroines that bring them to their knees...Tessa Bailey's books are pure perfection."
— Elle Kennedy, New York Times Bestselling Author

"Scorching hot, and laugh-out-loud funny! You'll want to read this book again and again."
— Katee Robert, New York Times bestselling author on Protecting What's His

"a sharply funny (and relentlessly steamy) story... Bailey offers up a number of fresh, sexy interludes that never feel rote or by-the-numbers, while also building a foundation of real emotion... a satisfying and deeply earned HEA, one that will no doubt leave fans clamoring for more..."

— RT Book Reviews (top pick)

"Tessa Bailey's newest romance contemporary hits all the right spots as she create the perfect blend of humor and erotic overtones... heartfelt declarations clash brilliantly with the sharp wit and flagrant dirty talk..."
— Heroes & Heartbreakers

"Let's crown Tessa Bailey Queen of romantic raunch. Tessa Bailey does not shy away from raunchy, funny romance, and she knocks it out of the park with Disorderly Conduct... Charlie and Ever are one of the funniest hero/heroine pairs I've read... "
— Hypable.com

"The Academy series is shaping out to be quite a gem of all her books. INDECENT EXPOSURE is engaging, fun, appropriately angsty when the occasion calls for it and more emotionally resonant than the first book in the series."
— The Romance Reviews

"blazing-hot (and at times graphic) sex scenes, deeply affecting emotional conflicts, and two flawed characters who are devoted to each other yet out of their depth. Help from a loving, steadfast secondary cast strengthens the story and the series. A steamy yet emotionally resonant—and relevant—romance winner."
— Kirkus Reviews

"A delightful mix of heat, charm and tenderness... Bailey excels at pairing a steamy romance with a stirring drama of two wounded people trying to heal, trust and fall in love."
— RT Book Reviews

"quick and easy, yet emotionally satisfying and even a little heartbreaking along the way... INDECENT EXPOSURE is a super sexy yet super sweet contemporary romance that readers will devour!"
— Fresh Fiction

"When you read a book by Bailey, there are two things you can always count on: sexy, rapid-fire dialogue and scorching love scenes. Indecent Exposure delivers on both fronts and is a delightful reminder of why Bailey is a favorite author for many romance readers. Though there are moments of seriousness, especially when it comes to Jack's guarded behavior and his past, this book is just wickedly fun."
— BookPage.com

"Sexy and deeply emotional... Bailey excels in telling the stories of foils, and Katie and Jack's romance is an honest, beautiful example: Though opposites, these two make perfect partners."
— Washington Post (Best Romances of February)