Blood of the Four (Hardcover)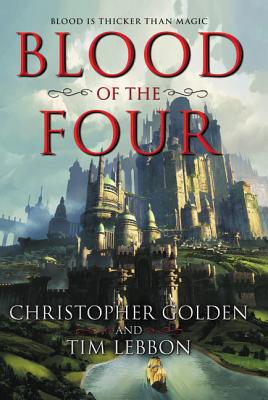 $24.99
Backordered or Out of Print
Description
---
The acclaimed authors of The Map of Moments and The Secret Journeys of Jack London join creative forces once more in this epic, standalone novel—an exciting dark fantasy of gods and mortals, fools and heroes, saviors and destroyers with a brilliant beam of hope at its core—that should more than appeal to readers of N.K. Jemisin and Brandon Sanderson.
In the great kingdom of Quandis, everyone is a slave. Some are slaves to the gods. Most are slaves to everyone else.
Blessed by the gods with lives of comfort and splendor, the royal elite routinely perform their duties, yet some chafe at their role. A young woman of stunning ambition, Princess Phela refuses to allow a few obstacles—including her mother the queen and her brother, the heir apparent—stand in the way of claiming ultimate power and glory for herself.
Far below the royals are the Bajuman. Poor and oppressed, members of this wretched caste have but two paths out of servitude: the priesthood . . . or death.
Because magic has been kept at bay in Quandis, royals and Bajuman have lived together in an uneasy peace for centuries. But Princess Phela's desire for power will disrupt the realm's order, setting into motion a series of events that will end with her becoming a goddess in her own right . . . or ultimately destroying Quandis and all its inhabitants.
About the Author
---
Christopher Golden is the New York Times bestselling author of such novels as Of Saints and Shadows, The Myth Hunters, Snowblind, Ararat, and Strangewood. With Mike Mignola, he co-created the comic book series Baltimore and Joe Golem: Occult Detective. He lives in Bradford, Massachusetts. 
Tim Lebbon has written more than forty horror, dark fantasy, and tie-in novels, including The Silence, Relics, Kong: Skull Island, and the Noreela fantasy series. He's also written hundreds of novellas and short stories, winning several prestigious awards, and has had his work optioned and made for the big screen. He lives in Monmouthshire, UK.
Praise For…
---
"This intriguing tale of magic and mayhem delves deep into the human psyche and shows what great writing and characters are all about. It grabs you by the throat and heartstrings and won't let go. If BLOOD OF THE FOUR isn't on your Must Be Read pile, it should be!" — Sherrilyn Kenyon, #1 New York Times Bestselling of the Dark-Hunters & Nevermore
"BLOOD OF THE FOUR is magnificent!  Epic in scope, grand in execution, and majestic and bloodthirsty in equal measure." — Sarah Beth Durst, author of The Queens of Renthia series
"There's something for everyone here, including some subtly feminist themes and several spectacular displays of magical conflict. This novel is an expert crowd-pleaser." — Publishers Weekly
"Golden and Lebbon pull off pure magic with BLOOD OF THE FOUR. Easily one of the best fantasies I've read in the last ten years. BLOOD OF THE FOUR kicks all kinds of ass!" — James A. Moore, author of the SEVEN FORGES and TIDES OF WAR series
"Blood of the Four is definitely fantasy on an epic level, contained in an overwhelming single volume for the reader's convenience." — New York Journal of Books
"Epic. Horror titans Golden (Ararat, 2017) and Lebbon (Relics, 2017), who previously teamed up on th YA series The Secret Journeys of Jack London (The Wild, 2011), meld their talents again in this fantasy of madness and war." — Booklist
"In a genre overcrowded by ever expanding series, this book demonstrates that there is plenty of room for action and intrigue in a stand-alone [...] A nicely self-contained and kinetic excursion into political fantasy." — Kirkus Reviews
"Thoughtful and thoroughly entertaining." — B&N Sci-Fi & Fantasy Blog
"If you love epic fantasy, especially if you are looking for one where you can read it all without endless waiting for a next volume or spending a year of your life wading through a dozen or more doorstops, grab a copy of BLOOD OF THE FOUR." — Reading Reality
"This book blew my expectations away, making me extra glad I actually read it! I would wholeheartedly recommend this, especially since it's not like a 10 book commitment – it's a standalone after all! 5/5 would book-push this book. 5/5 would read again." — Power & Page
"BLOOD OF THE FOUR is a fun read. The partnership of Golden and Lebbon has resulted in a stylistically seamless narrative [...]  The attention paid to gender makes the book refreshingly contemporary and adds important intellectual and cultural heft to an entertaining tale." — Bookreporter.com
"Christopher Golden and Tim Lebbon are a formidable pair of writers of fantasy stories. They have total control over their characters and the character arcs are finished perfectly. It is a real treat for all those who enjoy reading fantasy fiction." — Washington Book Review
"What do you get when you bring two skilled authors together and the write a book? The answer is simple, something rather wonderful." — The Eloquent Page