The Soldier's Scoundrel (Mass Market)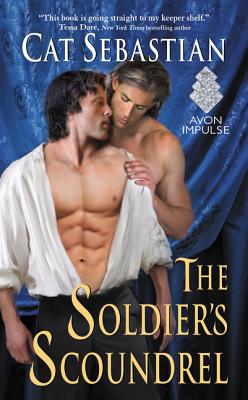 $6.99

Likely On Our Shelves Now
Description
---
A scoundrel who lives in the shadows
Jack Turner grew up in the darkness of London's slums, born into a life of crime and willing to do anything to keep his belly full and his siblings safe. Now he uses the tricks and schemes of the underworld to help those who need the kind of assistance only a scoundrel can provide. His distrust of the nobility runs deep and his services do not extend to the gorgeous high-born soldier who personifies everything Jack will never be. 
A soldier untarnished by vice
After the chaos of war, Oliver Rivington craves the safe predictability of a gentleman's life—one that doesn't include sparring with a ne'er-do-well who flouts the law at every turn. But Jack tempts Oliver like no other man has before. Soon his yearning for the unapologetic criminal is only matched by Jack's pleasure in watching his genteel polish crumble every time they're together. 
Two men meant only for each other
About the Author
---
Cat Sebastian lives in a swampy part of the South with her husband, three kids, and two dogs. Before her kids were born, she practiced law and taught high school and college writing. When she isn't reading or writing, she's doing crossword puzzles, bird-watching, and wondering where she put her coffee cup.
Praise For…
---
"I loved THE SOLDIER'S SCOUNDREL from first page to last! Jack and Oliver completely won me over with their tenderness and passion. Cat Sebastian's talent shines on every page. This book is going straight to my keeper shelf." — Tessa Dare, New York Times bestselling author
"A familiar Regency opposites-attract romance becomes something freshly seductive in the hands of a skilled newcomer... Sebastian deploys dialogue, especially the men's frequent disagreements, to great and often hilarious effect...An accomplished, thoroughly winning debut." — Kirkus Reviews
"Sweetly prim Oliver and the roguish Jack will quickly win the hearts of readers, while the mysterious blackmail investigation keeps them invested to the end. An excellent choice not just for M/M romance fans but also for Regency fans with a penchant for vigilante justice." — Library Journal
"Cat Sebastian's debut is an utterly swoonworthy cross-class romance. Don't miss it!" — Courtney Milan, New York Times bestselling author
"The deftly-woven suspense kept me turning the pages, while the sparks flying between Jack and Oliver were delightfully romantic. Cat Sebastian's debut sparkles with wit and sensuality. Not to be missed!" — Lenora Bell, author of How the Duke Was Won
"Sizzling and sweet!"-Eva Leigh, author of Temptations of a Wallflower — Eva Leigh, author of Temptations of a Wallflower
"Cat Sebastian is already on my auto-buy list!" — Summer Devon, co-author of THE GENTLEMAN AND THE ROGUE
"Readers can expect angst-filled romance and scorching hot passion. Gentleman Oliver and Private Investigator Jack will check every box on your romance must-have list. I highly recommend this debut novel!" — Bonnie Dee, New York Times bestselling author
Cat Sebastian sets a beautiful romance against a compelling story of blackmail, scandal and the impossibility of happily-ever-after... a reminder that love holds such power over us all. — Washington Post