Operational Updates
Dear Ripped Bodice Community,
We want to make sure we are keeping you updated on how we are handling this crisis. It's been a very challenging time but we are hanging in there.
The shop remains closed to all customers with no events on the calendar.
-Online orders
We are still accepting online orders and have adopted a process to best comply with the evolving guidelines from California and LA County Departments of Health.
This means that Leah is processing all incoming orders and our staff has been instructed to stay at home. Because this is now a one-woman operation, shipping may be slower than normal. We love and appreciate your support in this incredibly difficult time, so we ask that you bear with us as we continue to fill orders. Given the state of the world and The Post Office, we are strongly recommending that you use USPS flat rate shipping at this time to ensure the quickest and most accurate delivery.
-Care packages
We are now accepting new orders for care packages. However, because we are down to a shipping staff of one, we will be accepting orders in batches so as not to overwhelm Leah. Head to this link to enter your email address, and we'll send you the order link once it's your turn.
Questions about orders (or anything) can be directed to hello@therippedbodicela.com
Finally, now is a great time to think about becoming a Patron of the store.
http://patreon.com/TheRippedBodice
There is already a ton of cool content you can check out on our page. Including 12 original short stories from some amazing romance authors. Vlogs and other fun stuff. We know this is not an option for everyone and that's totally okay and understandable. But if you're looking for a way to help, this is a great option.

We hope you are all doing okay and making it through one day at a time.
xoxo, Bea & Leah and Fitz
Dead Girls: Essays on Surviving an American Obsession (Paperback)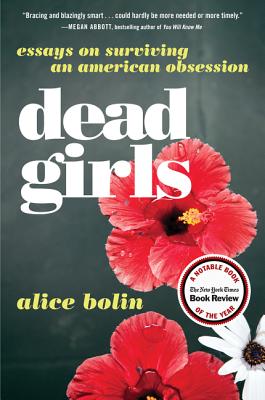 $15.99
Usually Ships in 1-5 Days
Description
---
A NEW YORK TIMES NOTABLE BOOK OF 2018
An Edgar Award nominee for best critical / biographical
Best of 2018 according to Kirkus, The Boston Globe, The New York Times, The Portland Mercury, Bustle, Thrillist, and Electric Lit
A New York Times Editor's Choice, a best of summer 2018 according to Bitch Magazine, Harpers Bazaar, The Millions, Esquire, Refinery29, Nylon, PopSugar, The Chicago Tribune, Book Riot, and CrimeReads
In this poignant collection, Alice Bolin examines iconic American works from the essays of Joan Didion and James Baldwin to Twin Peaks, Britney Spears, and Serial, illuminating the widespread obsession with women who are abused, killed, and disenfranchised, and whose bodies (dead and alive) are used as props to bolster men's stories. Smart and accessible, thoughtful and heartfelt, Bolin investigates the implications of our cultural fixations, and her own role as a consumer and creator.
Bolin chronicles her life in Los Angeles, dissects the Noir, revisits her own coming of age, and analyzes stories of witches and werewolves, both appreciating and challenging the narratives we construct and absorb every day. Dead Girls begins by exploring the trope of dead women in fiction, and ends by interrogating the more complex dilemma of living women – both the persistent injustices they suffer and the oppression that white women help perpetrate.
Reminiscent of the piercing insight of Rebecca Solnit and the critical skill of Hilton Als, Bolin constructs a sharp, perceptive, and revelatory dialogue on the portrayal of women in media and their roles in our culture. 
About the Author
---
Alice Bolin's nonfiction has appeared in many publications including ELLE, the Awl, the LA Review of Books, Salon, VICE's Broadly, The Paris Review Daily, and The New Yorker's Page-Turner blog. She currently teaches creative nonfiction at the University of Memphis.
alicebolin.com
Twitter: @alicebolin
Praise For…
---
"Stylish and inspired."
— New York Times Book Review, Editor's Choice

"[A] deliciously dry, moody essay collection… Bolin's book is a lyrical meditation."
— Carina Chocano, New York Times Book Review

"I love Dead Girls! Bolin's essays are the perfect blend of criticism, humor, and memoir. The book made me think about my own fascination with true crime in a way I have never considered before. This is a book for any mystery/true crime fanatic... or even a casual fan."
— Emma Roberts, Belletrist

"Everything I want in an essay collection: provocative lines of inquiry, macabre humor, blistering intelligence. I love this book. I want to take it into the middle of a crowded room and hold it up and scream until someone tackles me the ground; even then, I'd probably keep screaming."
— Carmen Maria Machado, author of Her Body and Other Parties

"Bracing and blazingly smart, Alice Bolin's Dead Girls could hardly be more needed or more timely. A critical contribution to the cultural discussion of gender and genre, Los Angeles and noir, the unbearable persistence of the male gaze and the furtive potency of female rage."
— Megan Abbott, Edgar Award-winning author of You Will Know Me

"The essay collection takes a good hard look at this fascination… with dead girls…. The cultural criticism serves to help us all think a little bit more about what we're consuming — and who's being damaged by it."
— Entertainment Weekly

"[A] sharp-eyed book of essays… In her willingness to show herself as a work in progress, thinking through a problem rather than presenting its solution, [Bolin] leaves breathing room for indecision and revision, ensuring that her writing is always pulsing with life." 
— Washington Post

"I loved this book with reckless abandon. Alice Bolin tracks our societal fixation with violence against young women through an astonishing variety of cultural landscapes… An irresistible read. It's wise and wonderful and I plan to press it on everyone I know."
— Robin Wasserman, author of Girls on Fire

"[An] engrossing debut collection of essays… The author's voice is eerily enthralling, systematically on point, and quite funny... An illuminating study on the role women play in the media and in their own lives."
— Kirkus Reviews (starred review)

"In her searing new essay collection, Bolin probes the generations-old obsession with young, tragic heroines... Smart, thorough, and urgent, Bolin's essays are a force to be reckoned with."
— Booklist

"I loved reading Dead Girls… Alice Bolin's potent voice and nimble intertwining of the personal and the cultural form an incantation strong enough for a resurrection."
— Elissa Washuta, author of Starvation Mode

"A smart, incisive book about true crime and crime fiction tropes, loneliness, Los Angeles, and literature. I will be thinking about this collection for a long while."
— Sarah Weinman, News Editor for Publishers Marketplace and author of The Real Lolita

 "My copy of Alice Bolin's Dead Girls is a thick flutter of dogeared pages and underlined sentences. It made me think about what I've read, and what I've written, and what I've experienced, in a fresh and challenging way."
— Emily Winslow, author of Jane Doe January

"A vivid and compelling collection challenging how we read and watch young women, alive and otherwise.… A compulsively readable and thoroughly enjoyable book, offering honesty and insight about the threats women face and perpetuate as we come of age."
— Rachel McCarthy James, author of The Man on the Train

"In effusive and incisive prose, Bolin examines our culture and finds beauty and truth in the tangled mess of it all. Both playful and thoughtful, urgent and timeless, this book is a is a riveting read that both journeys through our cultural consciousness and reckons with it."
— Lyz Lenz, Managing Editor of The Rumpus

"Intimate and intelligent, meditative and kinetic, these essays brim with insights on how to make a life in a world that was not made for you to star in."
— Moira Weigel, author of Labor of Love

"In this collection of lucid, provocative essays... Bolin's writing is diamond sharp, and the way in which she conceives a dialogue between the fiction and fact of the "dead girl," in a stunning analysis and indictment of our patriarchal, white supremacist culture, feels nothing short of revelatory."
— Nylon Magazine

"Along with some incisive commentary on the role of pop stars, noir fiction, and the privileged nature of Joan Didion's 'glamorous desperation,' Bolin delves into her own process and what it means to create as a female artist."
— Harpers Bazaar

"[Bolin's] dryly humorous, deeply researched collection is a thoughtful critique of American culture and its disparate and disturbing fixations and fears."
— BookPage

"This is wise, fascinating stuff."
— Book Riot

"Particularly relevant.... Entertaining and highly anticipated."
— Broadly

"Brilliant."
— Refinery29

"This is likely to be one of the year's most intensely read and discussed essay collections."
— CrimeReads

"Would stand as one of this year's essential reads even without that striking, of-the-moment title…. It's urgent, necessary criticism.... It's also as engaging as it is insightful, the kind of book you might steal a couple of minutes with at work when you think nobody's watching."
— Village Voice

"Excellent... an uncompromising and infinitely engaging exploration of the existential burdens of being a woman or a girl living, and dying, in our misogynist culture."
— Salon.com

"This isn't just an essay collection but one of the biggest of the season… A smart, feminist take on an endlessly juicy subject."
— LitHub

"The nonfiction book everyone is talking about."
— Bustle

"An excellent collection of individual essays and a fascinating example of the book-length possibilities of the essay form…. Like Indiana Jones switching a bag of sand for gold, Bolin substitutes her younger self as the Dead Girl and bestows the Dead Girl agency, brings her to life."
— The Millions

"The book is a great diagnosis of some pretty popular addictions and ills—and after reading it, you feel like you made a new friend."
— The Stranger

"Dead Girls… does what all great books do … it turns experience into literature…. Amid the atomized sprawl of American cities and American culture, Bolin lays bare the connections lurking beneath the glare and the violence, daring us to accept nothing as it is."
— Los Angeles Review of Books

"Dead Girls isn't all analysis; it's introspective narrative, too, as Bolin deftly interweaves her own coming-of-age in LA with her investigations of our cultural compulsions."
— Thrillist (Best Books of 2018)

"Throughout her essays, Bolin runs a thread through topics like trauma, domestic violence, white female complicity, and Britney Spears with sharp analyses that... for the most part thoughtfully deconstruct a trend that says a lot about the complex, systemic misogyny buried in each of our brains."
— The Portland Mercury