Operational Updates
Click HERE for the most updated hours, customer guidelines and updates to store policy.
The Faerie Handbook: An Enchanting Compendium of Literature, Lore, Art, Recipes, and Projects (The Enchanted Library) (Hardcover)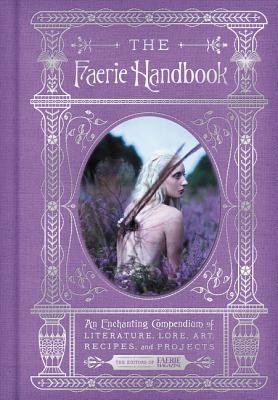 $35.00
Email or call for price
Description
---
"I'll be honestly surprised if The Faerie Handbook doesn't end up having the same impact and influence as Froud and Lee's Faeries did all those years ago."—Charles de Lint

In this exquisite anthology, Editor in Chief Carolyn Turgeon and the editors of Enchanted Living Magazine (formerly Faerie Magazine) welcome you into an enchanted realm rich with myth, mystery, romance, and abundant natural beauty. Organized into four sections—Flora & Fauna, Fashion & Beauty, Arts & Culture, and Home, Food, & Entertaining, it offers an array of exquisite vintage and contemporary fine art and photography, literature, essays, do-it-yourself projects, and recipes. A Resources section provides a listing of Fairy Festivals and Fairy House Festivals worldwide.
With an inset image on the front cover, ornate silver foil patterning on the front, spine, back, and edges, and a satin bookmark, The Faerie Handbook is an eye-catching volume for fairy fans of all ages. Here's some of what you'll find inside:
Flora & Fauna: Where Fairies Live; A Listing of Fairy World Inhabitants; Katerina Plotnikova's Fairyland (photography portfolio); Fairy House Architecture and Interiors; A Fairy Herb and Flower Almanac; The Poison Garden at Alnwick Castle; Fairy Trees; Victorian Terrariums; Animal Friends and Foes
Fashion & Beauty: Fairy Queens; Fairy Couture (portfolio: tiny hand-crafted dresses fashioned from paper as well as real flowers); fashionable flower plates from J.J. Grandville's book Fleurs Animées; Fairy Cobblers: (portfolio: fairy shoes crafted from paper and flowers; fairy shoes for human folk); Garbed in the Garden (designer dresses for humans crafted from and embellished with live flowers); Dewdrops: The First Beauty: Elixir; Fairy Dust; Fairy Fragrances; Bathing in Fairy Style; Fairy Wings; Mori Girls
Part III: Art & Culture: A Midsummer Night's Dream; The Secret Commonwealth; How to Avoid Being Taken by Fairies; Changelings; Victorian Fairy Paintings; The Art of Arthur Rackham; Charles Vess, Cicely Mary Barker, and Brian Froud and Alan Lee; Fairytale World of Mr. Finch; Kirsty Mitchell's Wonderland (photography portfolio), The Lady of Shalott; the Cottingley Fairy Hoax
Part IV: Home, Food, & Entertaining Midsummer Night's Dream Garden Party; Edible Flowers; Fairy Drinks; The French Fairytale Salon of Madame d'Aulnoy; A Fairy Tea Party; Fairy Party Tips; Fairy Portals and Pathways'; Fairy Tale–Inspired Houses of Carmel-by-the-Sea
Projects and recipes: Craft Your Own Fairy Furniture; How to Build a Flower Press; Flower Pressing Ideas and Tips; How to Make a Fairy Terrarium; How to Make a Fairy Flower Crown; How to Make Fairy Dust; The Perfect Fairy Bath; How to Construct an Arbor; Candied Violets; Flower Lollipops; Lavender Shortbread Cookies; Honey Ricotta Tart; Frosted Cranberries; Fairy Tea Cakes
Praise For…
---
"A thick, lavender tome that will serve as your guide to all things related to the faerie kingdom. I was swept off my feet by this charming book, which filled me with nostalgia and provided a visual feast for my eyes…this is a book is a must-have."
— Elizabeth Sherman, Food & Wine

From the editors of Faerie Magazine—a lush, dreamy anthology of myth and mysticism.
— Buzzfeed, Ultimate Books Gift Guide 2017

This utterly charming, absolutely beautiful book gives insight into so very many aspects of Faerie. I almost wish I could come to it not knowing much about faeries; it would then be an amazing voyage of discovery. Even with my knowledge, I was still surprised and enchanted! I love it!
— Wendy Froud

The Faerie Handbook takes you into an enchanted realm that will make you clap your hands with belief.
— San Francisco Chronicle

"Faerie Magazine is known for its surreal, sumptuous illustrations, and "The Faerie Handbook" by Carolyn Turgeon and the editors is no exception. Perfect for the romantic on your list, the anthology is divided into four sections: Flora and Fauna; Fashion and Beauty; Arts and Culture; and Home, Food, and Entertaining."
— Baltimore Sun Gift Guide 2017

A masterwork in production values paired with genuinely rich and well-organized content. The illustrations are stunning. . .the quality of the literature is superb. If you mark yourself a fan of the faerie world, it's worth taking home with you.
— Cincinnati Book Review

"This handbook is a love letter to those who find themselves drifting between two worlds- the mystical flower kingdom and our mundane reality… As the ultimate fairy tale, this handbook is a must read and should be in every fairy lover's collection."
— The Luminessence Blog

I can see this having the same impact on a new generation of readers as Brian Froud and Alan Lee's Faeries did way back in 1978. It's brimful of everything faerie, from gorgeous art to any number of fascinating tidbits of lore.
— Charles de Lint

"A beautiful book with a huge amount of respect for faerie, layered with a heavy understanding of historical creation and context, folklore, and fairy tale. The illustrations and photography are gorgeous. This is a definitive compendium, full of lore and legend."
— Leah Rachel von Essen, readingandwalking.com

"The collected artwork alone in this volume is something I will treasure for the rest of my life. And of course the photography by Kirsty Mitchell and Katerina Plotnikova is not to be missed. Literally every single page is something to pause for and savor… even the end pages!"
— Naomi, sweetvioletbeauty.com

"One of the most beautiful books ever to grace a bookshelf…. To say that The Faerie Handbook is, in itself, a work of art, is an understatement. It is also a most remarkable literary endeavor by a team that are, without a doubt, experts in their field."
— June McInerney, June's Literary Blog

"This exquisite anthology welcomes you into an enchanted realm rich with myth, mystery, romance, and abounding natural beauty."
— Seeing_double_in_neverland Instagram

"Every page of The Faerie Handbook is gorgeous, and it's jam-packed with high-quality photographs and prints of famous faerie-related artwork throughout the last few centuries."
— Jana Nyman, fantasyliterature.com

"As I thumbed through the pages of this special book, I was amazed at its physical beauty. And as I read, I was transported to a magical realm by its lyrical prose."
— Review by Amos Lassen

"…striking and elaborate… the perfect gift for that fairy enthusiast you know."
— Amy Steele, entertainmentrealm.com

"A highly curated array of vintage and contemporary fine art and photography, literature, essays, do-it-yourself projects, curious knowledge, and recipes, this lush compendium provides hours of reading, viewing, and dreaming pleasure, and a multitude of ideas for modern-day living and entertaining with a distinctive fairy touch."
— tootsbookreivews.blogspot.com

"With silver edged pages adding extra magic to this already wonderfully aesthetic creation, THE FAERIE HANDBOOK is a small haven of magical clarity in a somewhat at times confused world. The book is an enchanting read full of folklore, art and magical recipes from making fairy dust to flower crowns."
— Under the Ivy

"A perfect book to give at the holidays for those that love the magical allure of fairies! With an inset image on the front cover, ornate silver foil patterning on the front, spine, and back, silver stained edges, and a satin bookmark, it is a beautiful volume for all ages."
— Outnumbered3-1.com

The imagination and magic of lore sparkles and enchants through the pages of The Faerie Handbook. Lavishly illustrated with a plethora of paintings and photographs, each page is a mystical treasure of sprightly beauty.
— Rage

This book reminded me of a younger time when I could more easily imagine the out-of-doors inhabited by sprites. Some people have never lost that sense of wonder and imagination.... This book is for them.
— Montgomery News

This stunning anthology appropriately covered in purple with silver accents will appeal to long time faerie lovers as well as anyone seeking to connect for the first time with their inner faerie.
— Good Reads With Ronna

"From start to finish, The Faerie Handbook is a beautiful book - both in content and design. The production and writing is so marvelous that even someone with only a passing interest in faeries is sure to be engaged for hours poring over this magical book!"
— books4yourkids.com

"I'll be honestly surprised if The Faerie Handbook doesn't end up having the same impact and influence as Froud and Lee's Faeries did all those years ago."
— Charles de Lint