A Prince on Paper: Reluctant Royals (Mass Market)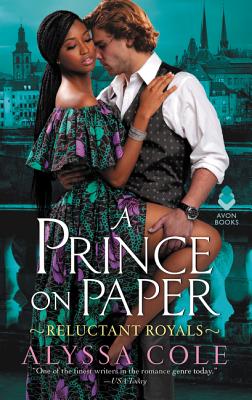 Description
---
Named one of Amazon's Best Romances of May!
The Reluctant Royals series returns with a good girl searching for the life that's not too big, and not too small, and the bad boy prince who might be just right for her…
Nya Jerami fled Thesolo for the glitz and glamour of NYC but discovered that her Prince Charming only exists in her virtual dating games. When Nya returns home for a royal wedding, she accidentally finds herself up close and personal—in bed—with the real-life celebrity prince who she loves to hate.
For Johan von Braustein, the red-headed step-prince of Liechtienbourg, acting as paparazzi bait is a ruse that protects his brother—the heir to the throne—and his own heart. When a royal referendum threatens his brother's future, a fake engagement is the perfect way to keep the cameras on him.
Nya and Johan both have good reasons to avoid love, but as desires are laid bare behind palace doors, they must decide if their fake romance will lead to a happily-ever-after.
About the Author
---
Alyssa Cole is an award-winning author of historical, contemporary, and sci-fi romance. Her contemporary rom-com A Princess in Theory was one of the New York Times' 100 Notable Books of 2018, and her books have received critical acclaim from Library Journal, BuzzFeed, Kirkus, Booklist, Jezebel, Vulture, Book Riot, Entertainment Weekly, and various other outlets. When she's not working, she can usually be found watching anime or wrangling her many pets.
Praise For…
---
"Nya and Johan's swoony sexual tension evolves into a scorching exploration that recognizes Nya's relative inexperience while rendering the pair's matched desire, fulfillment, and power. A gifted writer at the top of her emotional, sexy, romantic, and inclusive game." — Kirkus Reviews (starred review)
"Cole explores sexual and gender identities, grief, self-respect, acceptance, and love in this faultless romance. She weaves family drama and emotional growth into a passion-filled story worthy of its irresistibly complicated (and diverse) characters. This affair of the heart is deeply satisfying." — Publishers Weekly (starred review)
"delightful... This sexy, warmhearted romance is essential reading for fans of the series, though it also stands on its own." — Library Journal (starred review)
"An impressive ending to a series featuring an international cast of complex, multicultural characters balancing their royal responsibilities with their modern lives and loves." — Booklist (starred review)
"If you like faux engagements, ultra steamy scenes, and an eventual happily-ever-after, this one's for you." — Oprahmag.com