Acting on Impulse (Love on Cue #1) (Mass Market)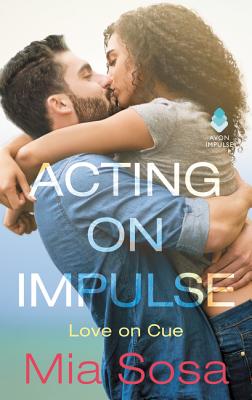 Description
---
"Guarantees characters that glow with equal parts wit, sass, and sensuality." Library Journal (Starred Review)
The first in a fun, flirty new series from Mia Sosa!
After a very public breakup with a media-hungry politician, fitness trainer Tori Alvarez escapes to Aruba for rest, relaxation, and copious amounts of sex on the beach—the cocktail, that is. She vows to keep her vacation a man-free zone but when a cute guy is seated next to her on the plane, Tori can't resist a little harmless flirting.
Hollywood heartthrob Carter Stone underwent a dramatic physical transformation for his latest role and it's clear his stunning seat mate doesn't recognize the man beneath the shaggy beard and extra lean frame. Now Carter needs help rebuilding his buff physique and Tori is perfect for the job. It doesn't hurt that she makes his pulse pound in more ways than one.
Sparks are flying, until a pesky paparazzo reveals Carter's identity. Tori is hurt and pissed. She wants nothing to do with another man in the limelight, but she's still got to whip him into shape. Can Carter convince Tori he's worth the threat to her privacy that comes with dating a famous actor, or will Tori chisel him down to nothing before he even gets the chance?
Grab the popcorn…
About the Author
---
Mia Sosa was born and raised in New York City. She attended the University of Pennsylvania, where she earned her bachelor's degree in Communications and met her own romance hero (spoiler alert: she married him). Mia once dreamed of being a professional singer, but practical considerations (read: the need to generate income) led her to take the law school admissions test instead.

A graduate of Yale Law School, Mia practiced First Amendment and media law in the nation's capital for ten years before returning to her creative roots. Now she spends most of her days writing contemporary romances about imperfect characters finding their perfect match. Mia lives in Maryland with her husband and two daughters and will forever be on the hunt for the perfect karaoke bar.
Praise For…
---
"Combine Sosa's gift for creating easily relatable characters and her engaging, witty prose with some off-the-charts sensual love scenes and you have a knockout start to the author's new Love on Cue series."
— Booklist

"This first book in the "Love on Cue" series guarantees characters that glow with equal parts wit, sass, and sensuality... Contemporary romance fans will fall for the multidimensional characters that never stray too far from family and friends as they struggle through the early part of their relationship."
— Library Journal (starred review)

"A fresh, sexy, laugh out loud funny rom com with characters you can't help but root for and a love story that will leave you smiling well after the book is finished."
— Alyssa Cole, award-winning author

"With characters that practically leap off the page, and dialogue that sparkles with sass and wit, Acting on Impulse is a laugh-out-loud read with pulse-pounding sexy times."
— Tracey Livesay, author of Love Will Always Remember

"Acting on Impulse is a hilarious RomCom with enough emotional feels to leave you breathless with wanting...MORE! Mia Sosa's fabulous mix of flirty and funny is what every reader dreams about! This author is a must for any romance lover."
— Codi Gary, author of Things Good Girls Don't Do

"In Acting on Impulse, Mia Sosa dazzles with sizzling chemistry, witty dialogue, and unforgettable characters. Tori and Carter's romance takes the reader on an exciting, emotional ride."
— Susan Scott Shelley, USA Today Bestselling Author

"A slow burn must read with a Hollywood hottie and a heroine you'll want to hang out with!"
— Avery Flynn, USA Today bestselling author of The Negotiator

"charming, witty, and consistently funny... Sosa hits all the right notes by weaving a uniformly entertaining story that effortlessly unpacks several socially relevant themes... Spicy sexual chemistry and a generous dash of authentic Puerto Rican flavor blend together in a sharp romance that begs to be savored."

— Kirkus Reviews

"a real winner... If you're a fan of romantic comedies, then you know you're in for a treat when you start laughing on the first page... Acting on Impulse is a genuinely delightful and sexy romance and I'm excited to continue the series!"
— All About Romance (Desert Isle Keeper)

"an emotional roller coaster... the book feels both effortless and intricate, in the way of truly great genre offerings and I have very giddy expectations for the next in the series."
— Seattle Review of Books