Pretending He's Mine (Love on Cue #2) (Paperback)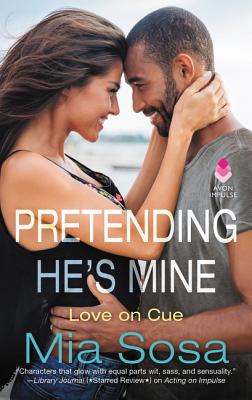 Description
---
Mia Sosa returns with another fun, flirty romance in her Love on Cue series!
For Hollywood agent Julian Hart, representing his best friend—megastar Carter Williamson—means it's nearly impossible to keep his personal life and career separate. To make matters worse, Carter's younger sister has been starring in Julian's wildest fantasies more often than he'd care to admit. He knows she's off-limits, but when Ashley shows up on his doorstep, needing a place to crash… suddenly his greatest temptation is sleeping down the hall.
Free-spirited Ashley Williamson doesn't do commitment. Jobs, apartments, men… why let herself be tied down? But she's had a crush on her older brother's best friend for years and she's committed to making Julian want her, one towel-clad midnight encounter at a time. But just as things start heating up, their steamy flirtation is interrupted by Carter's east coast wedding. Ashley has no desire to go home and face her reputation as the family disappointment. But living with—dare she say dating?—a successful, sexy film agent could really help her save face.
Julian can't believe he agreed to fake a relationship with the one woman he can never have. And it's going to take more than a little willpower to remember it's all pretend. Or is it? 
About the Author
---
Mia Sosa was born and raised in New York City. She attended the University of Pennsylvania, where she earned her bachelor's degree in Communications and met her own romance hero (spoiler alert: she married him). Mia once dreamed of being a professional singer, but practical considerations (read: the need to generate income) led her to take the law school admissions test instead.

A graduate of Yale Law School, Mia practiced First Amendment and media law in the nation's capital for ten years before returning to her creative roots. Now she spends most of her days writing contemporary romances about imperfect characters finding their perfect match. Mia lives in Maryland with her husband and two daughters and will forever be on the hunt for the perfect karaoke bar.
Praise For…
---
"Mia Sosa's fabulous mix of flirty and funny is what every reader dreams about! This author is a must for any romance lover."
— Codi Gary, author of Things Good Girls Don't Do

"In Acting on Impulse, Mia Sosa dazzles with sizzling chemistry, witty dialogue, and unforgettable characters. Tori and Carter's romance takes the reader on an exciting, emotional ride."
— Susan Scott Shelley, USA Today Bestselling Author

"With characters that practically leap off the page, and dialogue that sparkles with sass and wit, Acting on Impulse is a laugh-out-loud read with pulse-pounding sexy times."
— Tracey Livesay, author of Love Will Always Remember

"A slow burn must read with a Hollywood hottie and a heroine you'll want to hang out with!"
— Avery Flynn, USA Today bestselling author of The Negotiator on Acting on Impulse

"A fresh, sexy, laugh out loud funny rom com with characters you can't help but root for and a love story that will leave you smiling well after the book is finished."
— Alyssa Cole, award-winning author on Acting on Impulse

"In this latest from Sosa, the mix of film and fitness keeps the action and the passions ramped up. Contemporary romance fans will fall for the multidimensional characters that never stray too far from family and friends as they struggle through the early part of their relationship."
— Library Journal (starred review) on Acting on Impulse

"The second installment in the Love on Cue series puts a refreshingly modern and funny spin on the traditional idea that opposites attract... Witty banter and sexual chemistry blend together to concoct a compelling romance story."
— Kirkus Reviews

"With the second in her Love on Cue series, Sosa (Acting on Impulse, 2017) deftly combines her flair for nuanced characterization with snappy writing imbued with a deliciously acerbic sense of humor, thus making her the new go-to author for fans of sassy and sexy contemporary romances."
— Booklist

"Mia Sosa delivers wish fulfillment with off-the-charts sparks..."
— Entertainment Weekly

"a handful of sunshine on a cloudy day... Ms. Sosa will help find your smile, even as she confiscates your heart."
— Night Owl Reviews (Top Pick - 5 Stars)