A Christmas to Remember: An Anthology (Mass Market)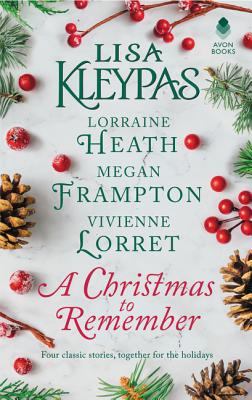 $7.99
Usually Ships in 1-5 Days
Description
---
Romance stars Lisa Kleypas, Lorraine Heath, Megan Frampton, and Vivienne Lorret prove in this collection of stories that love is the most magical during Christmas…
"I Will" by Lisa Kleypas
To be reinstated into his father's will, Andrew, Lord Drake, must court a respectable woman-his friend's spinster sister, Miss Caroline Hargreaves. After he blackmails Caroline into helping him, the charade begins-but is it really a charade once love takes hold of their hearts…?
"Deck the Halls With Love" by Lorraine Heath
Alistair Wakefield, the Marquess of Chetwyn, devastated Lady Meredith Hargreaves when he proposed to another. But when he becomes free to pursue her, it's too late for she's on her way to the altar….. As Christmas approaches, Chetwyn vows to lure Lady Meredith back into his arms.
"No Groom at the Inn" by Megan Frampton
James Archer detests his mother's matchmaking ways. When ordered to attend a Christmastime house party filled with simpering maidens, he produces a fiancée-Lady Sophronia Bettesford. James and Sophronia pretend to be in love for one month. But their pact soon turns into love.
"The Duke's Christmas Wish" by Vivienne Lorret
To the Duke of Vale, science solves everything-even marriage. When the impulsive Ivy Sutherland makes him question all of his data, he realizes that he's overlooked a vital component in his search for the perfect match: love.
Four previously published stories together for the first time.
About the Author
---
New York Times bestselling author Lisa Kleypas graduated from Wellesley College with a political science degree. She's a RITA award-winning author of both historical romance and contemporary women's fiction. She lives in Washington State with her husband Gregory and their two children.
Lorraine Heath always dreamed of being a writer. After graduating from the University of Texas, she wrote training manuals, press releases, articles, and computer code, but something was always missing. When she read a romance novel, she not only became hooked on the genre, but quickly realized what her writing lacked: rebels, scoundrels, and rogues. She's been writing about them ever since. Her work has been recognized with numerous industry awards, including RWA's prestigious RITA®. Her novels have appeared on the USA Today and New York Times bestseller lists.
Megan Frampton writes historical romance under her own name and romantic women's fiction as Megan Caldwell. She likes the color black, gin, dark-haired British men, and huge earrings, not in that order. She lives in Brooklyn, New York, with her husband and son.
USA Today bestselling author, VIVIENNE LORRET transforms copious amounts of tea into words. She is an Avon author of works including: The Wallflower Wedding Series, The Rakes of Fallow Hall Series, The Season's Original Series, and the Misadventures in Matchmaking series. For more information on her books, sign up for her newsletter at www.vivlorret.net.
Praise For…
---
"This anthology is a wondrous combination of charming characters and unique circumstances; each of the stories is well-written and deeply satisfying."
— Publishers Weekly (starred review)

"Four popular romance writers present four holiday-themed novellas -- Kleypas' "I Will," Lorraine Heath's "Deck the Halls with Love," Megan Frampton's "No Groom at the Inn," and Vivienne Lorret's "The Duke's Christmas Wish," which add up to the perfect gift for historical-romance readers."
— Booklist

"An enchanting, exquisitely rendered collection of Christmas Regency shorts."
— Kirkus Reviews