Nothing Compares to the Duke: The Duke's Den (Mass Market)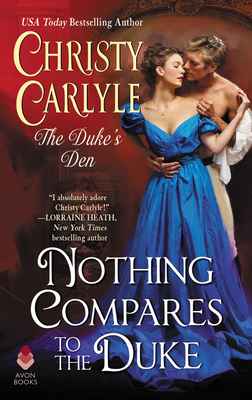 $7.99
Backordered or Out of Print
Description
---
Christy Carlyle concludes her Duke's Den series with this sparkling romance about two reluctant allies intent on following the rules and breaking every single one.

His Only Regret…
Rhys Forester, the new Duke of Claremont, lives his life by four words: Enjoy All, Regret Nothing. He's devoted to the pleasure of his wild soirees, reckless behavior, and shocking the ton with his interests in trade. The debts that come with his title don't fit the carefree lifestyle he's created and when he's forced to return to his family's estate, he's also forced to confront his one and only regret: the beautiful girl he left behind.
May Be Falling in Love…
Arabella Prescott has been the belle of more balls than she cares to remember. After three seasons and five rejected proposals, she's done with the marriage mart. Bella's hopes to live a comfortable life, alone, come crashing down when her parents demand she marry. But her salvation may come in the form of the man she hates the most.
Bella has never forgiven Rhys for what he did to her, but desperate times call for fake engagements. With a few dozen rules, their scheme begins, but it's not long before the former enemies find themselves breaking every single rule, including the most important of them all: don't fall in love…
About the Author
---
Fueled by Pacific Northwest coffee and inspired by multiple viewings of every British costume drama she can get her hands on, USA Today bestselling author Christy Carlyle writes sensual historical romance set in the Victorian era. She loves heroes who struggle against all odds and heroines who are ahead of their time. A former teacher with a degree in history, she finds there's nothing better than being able to combine her love of the past with a die-hard belief in happy endings.