Operational Updates
Reopening for in-person browsing: JUNE 6
store hours: 12pm to 6pm everyday
We are still accepting online orders, as well as care package orders at this link.
New Customer Guidelines:
No Mask, No Entry. If you don't have a mask, knock on the door and a staff member will bring you one that you can keep.
Browse with intention. Don't touch every book in the store if you don't have to.
In order to ensure touchless checkout, we are not accepting cash at this time.
Only 7 customers are allowed in the store at one time.
No pets at this time.
Children need to be vigorously supervised; they cannot leave your side while you are browsing.
All seating areas are closed.
Our tea service is currently suspended, but you can still buy the tea leaves to make at home.
Little Wonders: A Novel (Paperback)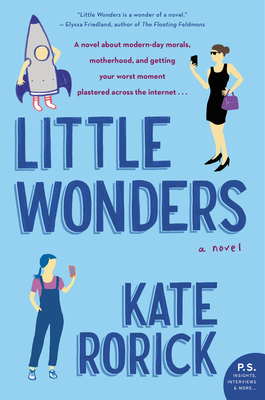 $15.99
Usually Ships in 1-5 Days
Description
---
If you like SMALL ADMISSIONS by Amy Poepell or CLASS MOM by Laurie Gelman you will love this novel about super mommies, private schools, and getting your worst moment plastered across the internet.

Her mommy meltdown is seen around the world!
When Quinn Barrett's son refuses to wear his hand-crafted costume to the Little Wonders Preschool Happy Halloween Parade and Dance Party she loses it -- complete with stomping, screaming, and costume-destruction galore. Not her best day. And caught on viral video.   Yep, "Halloween Mom" is now internet famous.
The posting culprit: tattooed, blue-haired, west-coast transplant Daisy McGulch, out of place in the posh New England town and unable to blend with the other perfect mommies of Little Wonders Preschool.
While she couldn't care less about organic snacks (paleo-preferred) or the winter quarters of the Little Wonders chickens, she's not about to admit she's the one who accidently brought Quinn's worst moment to the entire world—she'd be kicked out of town!
But when Quinn and Daisy find themselves unlikely cohorts in the fight for Little Wonders Parents Association supremacy, they also discover they have more in common than they expected…but the internet is forever.  Can Quinn live down her new reputation?  And how far will Daisy go to keep the truth from coming to light?
Hilarious, clever, and unforgettable, Little Wonders offers a glimpse into the high-pressure world of modern momming, with natural toys, scrutinized playdates, PTA politics, and social media gone amok.
About the Author
---
Emmy Award-winning writer Kate Rorick is the author of novels about modern motherhood.  She is also a television writer and producer, most recently for The Librarians and Marvel's Cloak and Dagger.  She is one of the writers behind the runaway YouTube sensation The Lizzie Bennet Diaries, and authored its two tie-in novels.  In her vast spare time she is a bestselling author of historical romance, under the name Kate Noble. She lives in Los Angeles with her family.
Praise For…
---
"Little Wonders is a wonder of a novel. Rorick captures the high-stakes world of nursery school parenting with pitch-perfect humor and brutal honesty. In our kid-eat-kid culture, where every move is captured online, this book is more relevant than ever. Highly recommend!"
— Elyssa Friedland, author of The Floating Feldmans

"Rorick combines clever satire of modern parenting with relatable characters and a lively, over-the-top plot that is still completely plausible...Fans of Laurie Gelman and Sophie Kinsella will devour this delightful tale of hypercompetitive parenting gone awry."
— Booklist (starred review)

"A funny, highly readable look at modern mom culture and the dangers of parenting in the age of viral videos."
— Kirkus Reviews