Win at All Costs: Inside Nike Running and Its Culture of Deception (Paperback)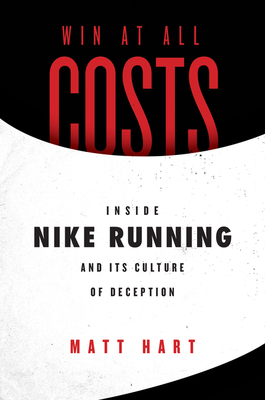 $18.99
Backordered or Out of Print
Description
---
"After years of rumors and speculation, Matt Hart sets out to peel back the layers of secrecy that protected the most powerful coach in running. What he finds will leave you indignant—and wondering whether anything in the high-stakes world of Olympic sport has truly changed." —Alex Hutchinson, New York Times bestselling author of Endure
Game of Shadows meets Shoe Dog in this explosive behind-the-scenes look that reveals for the first time the unsettling details of Nike's secret running program—the Nike Oregon Project.
In May 2017, journalist Matt Hart received a USB drive containing a single file—a 4.7-megabyte PDF named "Tic Toc, Tic Toc. . .". Opening the file, Hart realized he was in possession of a stolen report prepared a year earlier by the United States Anti-Doping Agency (USADA) for the Texas Medical Board as part of an investigation into legendary running coach Alberto Salazar, a Houston-based endocrinologist named Dr. Jeffrey Brown, and their Nike-sponsored runners, including some of the world's best athletes.
The information Hart received was part of an unfolding story of deception that began when Steve Magness, an assistant to Salazar, broke the omertà—the Mafia-like code of silence around performance-enhancing drugs and gray-area tactics among those involved—and alerted the USADA. He was soon followed by Olympians Adam and Kara Goucher, who risked their careers to become whistleblowers on their former Nike running family in Beaverton, Oregon. They revealed a cult-like environment where athletes were pushed beyond the bounds of human athletic ability at the expense of competing with integrity: where runners' declining mental and physical health was neglected while they were encouraged to misuse supplements and prescription medications with the help of complicit medical professionals.
Combining sports drama and business exposé, Win at All Costs tells the full story of Nike's secretive running program, uncovering a cutthroat corporate culture of systemic cheating, gender discrimination, drug misuse, and medical malpractice. Shocking in the extent of its revelations, Win at All Costs opens readers' eyes to the reality that rigged competition is widespread and entrenched—even at one of the most prestigious sports brands in the world. 

About the Author
---
Matt Hart is a freelance journalist whose writing covers sports science, human-powered adventure and exploration, performance-enhancing drugs, nutrition, and evolution. His work has appeared in The New Yorker, The Atlantic, The New York Times, National Geographic Adventure, and Outside magazine, among others. His reporting on the investigations into Salazar appeared on the front page, above the fold, of The New York Times in May 2017. In addition to his access to the Gouchers, other sources for the book include former Nike employees, athletes, and coaches; famed sports-scientist and Oregon Project whistleblower Steve Magness; and Olympic marathon gold medalist Frank Shorter, among many others. 
Praise For…
---
"Buckle up for a wild ride through athletics, doping, and the hard-driving company paying $500 million to brand the U.S. track and field team until at least 2040…a deeply reported and revealing look at the dire commercialization of American sports." — Kirkus Reviews
"Hart's particularly talented when it comes to creating disquieting portraits of the runners, whose desperation to win is palpable on the page. This revelatory exposé wows." — Publishers Weekly
"Win At All Costs will make you question why on earth losing integrity is ever worth winning a race. There are important considerations here: can a cheater tell the truth, and does every athlete have his or her own line to draw when it comes to what is acceptable to boost performance? Win At All Costs will answer these questions and send you on a never-ending quest for truth and justice." — Deena Kastor, Olympic Medalist and American Record Holder and New York Times bestselling author of Let Your Mind Run
"Matt Hart's meticulous reporting documents the toxic culture cultivated by the running world's most powerful coach and one of the sport's most influential brands. Win At All Costs illuminates the devastating consequences the Nike Oregon Project's poisonous atmosphere and illicit practices had for athletes, and the tremendous personal cost borne by whistleblowers like Kara and Adam Goucher and Steve Magness, who chose to follow their moral compass." — Christie Aschwanden, award-winning science journalist and New York Times bestselling author of Good to Go
"Beautifully-crafted and richly-reported, Matt Hart's Win at All Costs reads like a James Bond thriller, plumbing the sad depths of professional running's underworld. Like Lance Armstrong and the 2017 Houston Astros, it turns out that champion runner/trainer Alberto Salazar and the Nike Oregon Project were also too good to be true." — Dan Shaughnessy, New York Times bestselling author of Francona and The Curse of the Bambino
"After years of rumors and speculation, Matt Hart sets out to peel back the layers of secrecy that protected the most powerful coach in running. What he finds will leave you indignant—and wondering whether anything in the high-stakes world of Olympic sport has truly changed."
— Alex Hutchinson, New York Times bestselling author of Endure
"Matt Hart digs into the story of the Nike Oregon Project and the infrastructure that supported it with a degree of depth, insight, and accuracy you won't find anywhere else. It's as captivating as it is unsettling and, at times, almost unbelievable. I couldn't put it down."
— Mario Fraioli, writer and host of the morning shakeout newsletter and podcast
"Win At All Costs is essential reading for anyone who wants a better understanding of the systemic rot within the richest, most powerful company in running. It's an important reminder that Alberto Salazar is not so much a rogue actor, as a cog in a much larger machine. At its heart, this book is nothing less than an indictment of American sports capitalism."   
— Martin Fritz Huber, "In Stride" columnist for Outside magazine