Santa Monica: A Novel (Paperback)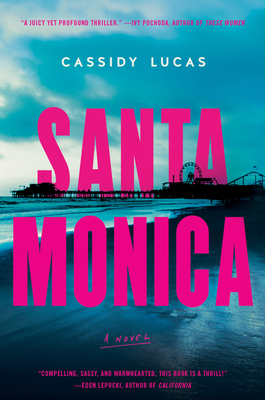 $16.99

NOT ON OUR SHELVES- available for order, usually ships in 1-5 days
Description
---
A debut novel in the vein of Liane Moriarty and Tom Perrotta, about dark secrets brought to life after the mysterious death of a handsome and charismatic trainer to the elite women in Santa Monica.
On the western edge of Los Angeles is the gorgeous beachside city of Santa Monica, where the sun-kissed, wealthy residents seem to inhabit real-life California dreams. When movie-star-handsome heartthrob fitness coach Zack Doheny, is found dead on the floor of his gym, the tragedy shocks the elite community, especially those who'd spent many hours each week exercising with the charismatic trainer. 
As the narrative flashes back to the months leading up to Zack's death, it quickly becomes clear that things in this coastal paradise are not as glittering as they seem. Lettie – Zack's secret half-sister and an undocumented housekeeper for the toned, entitled women of Santa Monica – holds her brother responsible for a horrific family accident, and desperately needs his money to prevent her deportation. Regina, type-A exercise addict and entrepreneur, will do anything to get out of debt and to claim Zack for herself. And Mel – a New York City transplant who finds herself forty pounds heavier and far more cynical than the lithe women of Santa Monica – discovers an electric attraction to Zack that threatens to disrupt his bond with Regina and upend Mel's own marriage. As these residents of Santa Monica begin to crack under the stress of their secrets, one question hangs above it all: what really happened to Zack Doheny? 

As addictively suspenseful as it is sharply observed, hilarious, and compassionate, Santa Monica is the rare novel that captures readers with propulsive storytelling alongside emotional urgency, irresistible characters, ambitious themes, and a vivid sense of place.
About the Author
---
Cassidy Lucas is the pen name of writing duo Julia Fierro and Caeli Wolfson Widger. Fierro is the author of the novels Cutting Teeth, praised by The New Yorker as a "comically energetic debut," and The Gypsy Moth Summer, called "hugely engaging" by Francine Prose. Widger is the author of the novels Real Happy Family and Mother of Invention, which was praised by Margaret Atwood as a "pacey thriller" and featured on NPR's Marketplace. Both Fierro and Widger live in Santa Monica with their families.
Praise For…
---
"Part riveting mystery, part incisive domestic drama, Santa Monica is a sharp look at the superficial lives of the pretending-to-be-perfect in gorgeous seaside California, expertly walking the line between satire, suspense and biting social commentary."  — Kimberly McCreight New York Times bestselling author of Reconstructing Amelia and A Good Marriage
"Santa Monica is a juicy yet profound thriller that seamlessly glides between the sun kissed beaches and the long shadows of seemingly glamorous Southern California. Cassidy Lucas has delivered a deft page turner and a topical mystery that is fully three dimensional in every way. Santa Monica is filled with complex characters who may act but never are superficial and at its core is a deft, twisty story that's both witty and wise about marriage, friendship, aging, and the deadly quest for perfection." — Ivy Pochoda, author of These Women
"Cassidy Lucas has created an engaging, satirical portrait of Santa Monica, where a vibrant cast faces a broad range of California problems—marriage and money troubles, poor body image for the haves, deportation for the have nots." — Steph Cha, author of Your House Will Pay
"Santa Monica is one juicy read!  Cassidy Lucas brings a rarified beach town to life with such verve and tenderness, and she isn't afraid to show its dark side, either. Compelling, sassy, and warmhearted, this book is a thrill." — Edan Lepucki, author of New York Times bestseller California
"Oh, how this smart, juicy thriller sucked me in. A perfect escape."    — Marcy Dermansky, author of Very Nice
Santa Monica is a deep dive into the extremes of human desire and a page-turning exploration of class, love, friendship, and marriage, while simultaneously exploring topical issues of politics and immigration. Cassidy Lucas plunges you into a world of terrifying domestic fantasy while holding her characters accountable for their flaws. A wild thriller you don't want to miss. — Elizabeth Silver, author of Tincture of Time
"Lucas (the pen name of Julia Fierro and Caeli Wolfson Widger) succeeds in satirizing the gilded enclave of Santa Monica while also tugging at readers' heartstrings" — Publishers Weekly