The Porcelain Moon: A Novel of France, the Great War, and Forbidden Love (Hardcover)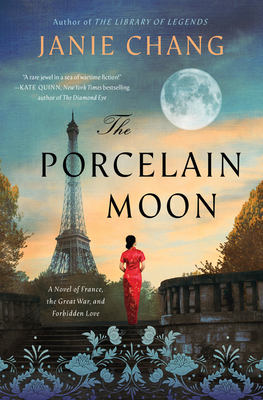 $30.00

NOT ON OUR SHELVES- available for order, usually ships in 1-5 days
Description
---
From the critically acclaimed author of The Library of Legends comes a vividly rendered novel set in WWI France about two young women—one Chinese, one French—whose lives intersect with unexpected, potentially dangerous consequences.
"East meets West in World War I France. In The Porcelain Moon, Janie Chang exhibits her signature trademarks—lyrical prose, deftly drawn characters, and skillful excavation of little-known history—to give us a rare jewel in a sea of wartime fiction!"— Kate Quinn, New York Times bestselling author
France, 1918. In the final days of the First World War, a young Chinese woman, Pauline Deng, runs away from her uncle's home in Paris to evade a marriage being arranged for her in Shanghai. To prevent the union, she needs the help of her cousin Theo, who is working as a translator for the Chinese Labour Corps in the French countryside. In the town of Noyelles-sur-Mer, Camille Roussel is planning her escape from an abusive marriage, and to end a love affair that can no longer continue. When Camille offers Pauline a room for her stay, the two women become friends. But it's not long before Pauline uncovers a perilous secret that Camille has been hiding from her. As their dangerous situation escalates, the two women are forced to make a terrible decision that will bind them together for the rest of their lives.
Set against the little-known history of the 140,000 Chinese workers brought to Europe as non-combatant labor during WWI, The Porcelain Moon is a tale of forbidden love, identity and belonging, and what we are willing to risk for freedom.
About the Author
---
Born in Taiwan, Janie Chang has lived in the Philippines, Iran, Thailand, New Zealand, and Canada. She writes historical fiction, often drawing from family history and ancestral stories. She has a degree in computer science and is a graduate of the Writer's Studio Program at Simon Fraser University. She is the author of Three Souls, Dragon Springs Road, and The Library of Legends.
Praise For…
---
"I'm so grateful to Janie Chang for bringing to life a side of the Great War — and France! — that one seldom sees: the Chinese laborers who came over to aid the war effort and the members of the Chinese community in Paris who volunteered as translators. Chang creates a fascinating, immersive story of worlds intertwining, a story of friendship, love, found family, and finding one's own place in a rapidly changing world."
— Lauren Willig, New York Times bestselling author of Band of Sisters and Two Wars and a Wedding
"Janie Chang's beautiful writing will transport you to another time and place with characters you will feel in your soul. The Porcelain Moon is incredibly well researched and sheds light on a lesser-known aspect of the Great War with the struggles of Chinese laborers brought to work in France. Once I started this book, I absolutely could not put it down – I cannot recommend it enough!"
— Madeleine Martin, New York Times bestselling author of The Last Bookshop in London and The Librarian Spy

"Janie Chang is at the top of her game with her latest, a fascinating, beautifully written novel set during the Great War that explores the forgotten role of Chinese laborers. A story of incredible courage, forbidden love, and the questions surrounding cultural identity, The Porcelain Moon is a heart-rending, thought-provoking addition to the canon of world war fiction."
— Heather Webb, bestselling author of The Next Ship Home and Strangers in the Night
"The Porcelain Moon is a vivid, riveting story of a Chinese woman bound by tradition, a Frenchwoman trapped in marriage, and a bright young Chinese man emboldened by his dreams of freedom. Set in Paris during WWI, the novel deftly excavates a piece of forgotten history during which thousands of Chinese men left home and toiled as mechanics, trench diggers, and railway repairers to support their European allies, who regarded them as strangers. Chang's masterfully crafted novel challenges our views of the traditional images of the Chinese, our beliefs about identity, and ultimately, the western opinions that have defined the WWI narrative. Profound and precious, The Porcelain Moon is a novel for anyone who believes they know about history." — Weina Dai Randel, author of The Last Rose of Shanghai and Night Angels
"Captivating from the outset, The Porcelain Moon tells a story of found family and forbidden love, while showcasing the lesser-known contribution of Chinese workers to the Allied cause in WWI. This tender and beautifully written story is Janie Chang at her best!"
— Bryn Turnbull, bestselling author of The Last Grand Duchess and The Woman Before Wallis

"East meets West in World War I France. In The Porcelain Moon, Janie Chang exhibits her signature trademarks – lyrical prose, deftly-drawn characters, and skillful excavation of little-known history – to give us a rare jewel in a sea of wartime fiction!"
— Kate Quinn, New York Times bestselling author of The Diamond Eye

"A compelling storyline with many echoes to the present, thought provoking characters, heartfelt love stories and a fascinating and lesser known chapter of Great War history make The Porcelain Moon the perfect book for both historical fiction fans and readers who may want to dip into the genre for the first time."  — The Nerd Daily
"What an immersive historical fiction novel! The Porcelain Moon is a transportive novel that takes you directly to France during World War I. I have read my fair share of books about the great wars, so I enjoyed this refreshing new take by Janie Chang."  — Gloss Book Club
"The subtitle of the latest by Chang (The Library of Legends, 2020) leaves out the book's most interesting and unique aspect, its focus on the contributions of Chinese people to the war effort…Refreshingly, the entwined stories have a happy ending. Readers of Jennifer Chiaverini's Switchboard Soldiers (2022) will appreciate Chang's rich historical detail and strong female characters."  — Booklist
"A tribute to the sacrifice of the little-known Chinese Labor Corps in France during WWI, The Porcelain Moon is a heartrending tale of secrets, love, and sacrifice. Expertly crafted, gripping the reader from the first page, Janie Chang delivers another stunning work to her impressive collection. Truly a beautiful tapestry of a book."
— Aimie K. Runyan, bestselling author of The School for German Brides

"There are many historical novels that begin in China in 1937 when the Japanese invade, but Janie Chang has found a new and fascinating story to tell about the university students and faculty who trekked hundreds and sometimes thousands of miles to escape the Japanese while preserving not just China's best minds, but also China's most precious books. I was entranced by the magical spirits, immortals, and fox spirits who accompany them. Janie Chang has beautifully melded history and the spirit world to create an adventurous love story for all of us readers who love books and who, in a perfect world, would do anything to save them." —  Lisa See, New York Times bestselling author of The Island of Sea Women, on The Library of Legends 
"Janie Chang's The Library of Legends is a delicious mix of history, myth, and romance. Chang deftly intertwines Chinese folklore and historical detail to create a magical, heartfelt read." — Jean Kwok, New York Times bestselling author of Girl in Translation and Searching for Sylvie Lee
"The Library of Legends is a gorgeous, poetic journey threaded with mist and magic about a group from a Chinese university who take to the road to escape the Japanese invasion of 1937—only to discover that danger stalks them from within. Janie Chang pens pure enchantment!" — Kate Quinn, New York Times bestselling author of Diamond Eye
"Chang expertly weaves mysticism and historical details, and sets up a cast of memorable characters. This will charm readers from the very first page." — Publishers Weekly on The Library of Legends 
"The Library of Legends is a luminous and enthralling story set during a pivotal period in the making of modern China, and highlights the Chinese determination to preserve their culture by saving precious historical treasures at great sacrifice. The exploits of historical characters and ancient mythological beings are interwoven in a blend of wonder, courage, and suspense." — Margaret George, New York Times bestselling author of The Splendor Before the Dark and Elizabeth I