Breathe: A Novel (Paperback)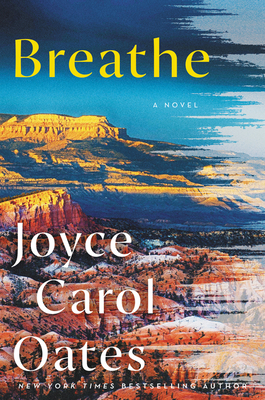 $19.99
Backordered or Out of Print
Description
---
A NOVEL OF LOVE AND LOSS FROM BESTSELLING AND PRIZEWINNING AUTHOR JOYCE CAROL OATES
Amid a starkly beautiful but uncanny landscape in New Mexico, a married couple from Cambridge, MA takes residency at a distinguished academic institute. When the husband is stricken with a mysterious illness, misdiagnosed at first, their lives are uprooted and husband and wife each embarks upon a nightmare journey.  At thirty-seven, Michaela faces the terrifying prospect of widowhood - and the loss of Gerard, whose identity has greatly shaped her own. 
In vividly depicted scenes of escalating suspense, Michaela cares desperately for Gerard in his final days as she comes to realize that her love for her husband, however fierce and selfless, is not enough to save him and that his death is beyond her comprehension.  A love that refuses to be surrendered at death—is this the blessing of a unique married love, or a curse that must be exorcized?
Part intimately detailed love story, part horror story rooted in real life, BREATHE is an exploration of hauntedness rooted in the domesticity of marital love, as well as our determination both to be faithful to the beloved and to survive the trauma of loss.
About the Author
---
Joyce Carol Oates is a recipient of the National Medal of Humanities, the National Book Critics Circle Ivan Sandrof Lifetime Achievement Award, the National Book Award, and the 2019 Jerusalem Prize, and has been several times nominated for the Pulitzer Prize. She has written some of the most enduring fiction of our time, including the national bestsellers We Were the Mulvaneys; Blonde, which was nominated for the National Book Award; and the New York Times bestseller The Falls, which won the 2005 Prix Femina. She is the Roger S. Berlind Distinguished Professor of the Humanities at Princeton University and has been a member of the American Academy of Arts and Letters since 1978.
Praise For…
---
"Breathe is a fever dream of a novel, and it's as an allegory of grief that it most sparkles. . . . Breathe is also a moving meditation on grief time, where there is no beginning, no end, and 'each hour, each day, passes with excruciating slowness yet it is all happening very quickly.'. . . Oates lands the book's wonderful ending. . . . Surprising and inevitable."  — New York Times Book Review
"Breathe is the highly affecting story of a woman facing the unimaginable loss of her spouse. . . . It's hard to know what is real and what is imagined as the novel rushes toward its shocking and ambiguous ending." — Associated Press
"Effective and harrowing." — Santa Fe New Mexican
"Powerful. . . . Fecund with fear and anguish, and driven by raw, breathless narration, this hallucinatory tale will not disappoint. Oates is on a roll."
— Publishers Weekly (starred review)
"Gut-wrenching and devoid of sentimentality. . . . Recommended." — Library Journal