The Hop: A Novel (Paperback)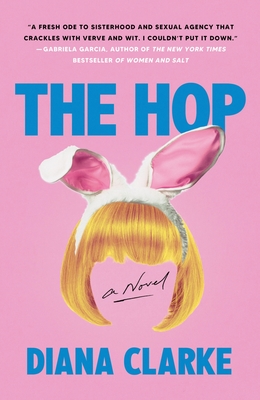 Description
---
"A fresh ode to sisterhood and sexual agency that crackles with verve and wit. I couldn't put it down."—Gabriela Garcia, author of the New York Times bestseller and Good Morning America Pick Of Women and Salt
"Clarke refuses to turn this story into a morality play. . . [and her] newly rich and famous [protagonist] doesn't turn away from sex work. Instead, she uses her new freedom to imagine what sex work might look like if its practitioners were truly empowered and autonomous. Like Clarke's debut, this is technically adventurous, politically relevant, and emotionally engaging." —Kirkus, Starred Review
A page-turning feminist novel that tells the story of a poor scrappy girl from rural New Zealand who grows reluctantly into a sex icon, the face of a movement, and a mother, all at the same time.
Kate Burns grows up wanting attention from her Ma, but her Ma wants only money and Kate learns how to get both. She and her childhood friend, Lacey, run kissing lessons for cash in the janitor's closet of Fenbrook High, and just like that, they find themselves in the sex work industry. From there, they go on to work at The Purple Panther, a strip club in Auckland. When Ma dies of cancer, Kate discovers that the men her Ma was always inviting over to their home were, in fact, clients. Ma was no stranger to sex work either. 
Following in Ma's footsteps, Kate heads to Nevada where she picks up a job at America's most prestigious brothel: The Hop. In her new life as a Bunny, Kate searches for an identity she can perform—the other Bunnies include a goth, a housewife, a cheerleader, a rebel, not to mention Betty, a trans beauty queen, Mia, a Japanese cosplayer, and Rain, a dominatrix. Kate becomes Lady Lane. The girls at The Hop are more fantasy than fact, and performance is always more perfect than the real. Kate is a natural and quickly rises through the ranks to become the bestselling Bunny and the owner, Daddy's favorite. But when ten street hookers are killed in a nearby city, just bodies with no names, Lady joins her sister Bunnies in mourning and begins to see things in a new light.
Lady's success breeds scandal and unwanted fame, deeply affecting her, transforming her life and The Hop forever. Diana Clarke's provocative second novel is subversive in the very best way, an unforgettable work of fiction with a radical message about women that couldn't be more important.
About the Author
---
Diana Clarke, a New Zealander, holds an MFA from Purdue University, where Roxane Gay was her thesis adviser, and is currently studying in the doctoral program at the University of Utah. She made her literary debut with the novel Thin Girls, and her work has been published in prestigious literary publications, including Glimmer Train, The Rumpus, Black Warrior Review, The Master's Review, and Hobart. The Hop is her second novel. She is currently the Writer in Residence at the University of Waikato in New Zealand.
Praise For…
---
"THE HOP is a fresh ode to sisterhood and sexual agency that crackles with verve and wit. I couldn't put it down."                                            — Gabriela Garcia, author of the New York Times Bestseller Of Women and Salt
"A gorgeously rendered and deeply engrossing snapshot of contemporary sex work."  — Booklist
"Clarke refuses to turn this story into a morality play…[and her] newly rich and famous [protagonist] doesn't turn away from sex work. Instead, she uses her new freedom to imagine what sex work might look like if its practitioners were truly empowered and autonomous. Like Clarke's debut, this is technically adventurous, politically relevant, and emotionally engaging."   — Kirkus Reviews (starred review)
"[An] ambitious and addictive feminist tale… With a complicated mother-daughter relationship, unconditional friendships, disappointments, and a bold stance on the sex industry, Clarke's novel consistently stirs the head and the heart. This is a great achievement." — Publishers Weekly (starred review)
"A formally inventive and politically subversive novel" — The New Yorker