Defending Alice: A Novel of Love and Race in the Roaring Twenties (Paperback)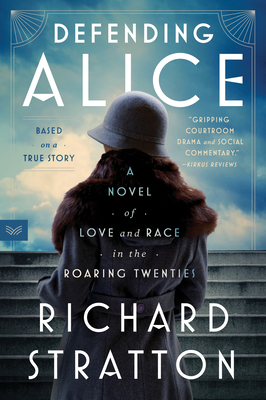 Description
---
"Gripping courtroom drama and social commentary . . . the story flows well . . . [the author is] masterful in building suspense."—Kirkus Reviews
Set in 1920s New York, an addictively readable, thoroughly entertaining historical novel involving sex and secrets, race and redemption, and power and privilege—based on a sensational real-life case that made international headlines—in which the marriage between a working-class black woman and the scion of one of America's most powerful white families ends in a scandalous annulment lawsuit.
When Alice Jones, a blue-color woman with at least one Black parent marries Leonard "Kip" Rhinelander, the son of one of New York's most prominent society families, the scandal rocks high society—and eventually sets the city afire when Kip later sues for an annulment, accusing Alice of having hidden her "Negro blood" and intentionally deceiving him that she was white.
While New York society in the Roaring Twenties witnessed more than a few scandals, the real-life Rhinelander case set tongues wagging and became perhaps the most examined interracial relationship in American history. In Defending Alice, Richard Stratton reimagines this remarkable story, from the couple's courtship through their controversial marriage to their shocking divorce trial and its aftermath. Chronicled by Alice's attorney, brilliant trial lawyer Lee Parsons Davis, and told in flashbacks and entries from Alice and Kip's fictional personal diaries, this epic page-turner vividly brings to life the New York of a century ago—a world seemingly far removed yet tragically familiar to our own.
Stratton brilliantly evokes this dazzling era in all its glamour and excess, and in retelling the Rhinelander story, explores issues of sex, race, class, prejudice, and justice that are as relevant today as they were a century ago when this headline-making trial took place.
About the Author
---
Richard Stratton is an award-winning writer and filmmaker. He wrote and produced the feature film Slam, which won the Grand Jury prize at Sundance and the Camera d'Or at Cannes, and Whiteboyz. He is the author of the Cannabis America trilogy—Smuggler's Blues: A True Story of the Hippie Mafia; Kingpin: Prisoner of The War on Drugs; and In the World: From the Big House to Hollywood—as well as Altered States of America: Outlaws and Icons, Hitmakers and Hitmen. His fiction and journalism have appeared in numerous outlets, including GQ, Esquire, Details, Newsweek, Rolling Stone, Spin, Playboy, and Story Magazine. Stratton resides in New York City with his wife Antoinette and is the father of five children.
Praise For…
---
"Gripping courtroom drama and social commentary…the story flows well…[the author is] masterful in building suspense." — Kirkus Reviews