Independence: A Novel (Paperback)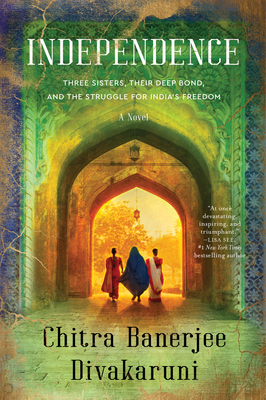 Description
---
"Divakaruni tells the story of India's independence through the eyes of three sisters, each of whom is uniquely different, with her own desires and flaws. I cheered for them and cried with them as they move through the history of their country that is at once devastating, inspiring, and triumphant. You will, too."— Lisa See, #1 New York Times bestselling author
Set during the partition of British India in 1947, a time when neighbor was pitted against neighbor and families were torn apart, award-winning author Chitra Banerjee Divakaruni's novel brings to life the sweeping story of three sisters caught up in events beyond their control, their unbreakable bond, and their incredible struggle against powerful odds.
India, 1947.
In a rural village in Bengal live three sisters, daughters of a well-respected doctor.
Priya: intelligent and idealistic, resolved to follow in her father's footsteps and become a doctor, though society frowns on it.
Deepa: the beauty, determined to make a marriage that will bring her family joy and status.
Jamini: devout, sharp-eyed, and a talented quiltmaker, with deeper passions than she reveals.
Theirs is a home of love and safety, a refuge from the violent events taking shape in the nation. Then their father is killed during a riot, and even their neighbors turn against them, bringing the events of their country closer to home.
As Priya determinedly pursues her career goal, Deepa falls deeply in love with a Muslim, causing her to break with her family. And Jamini attempts to hold her family together, even as she secretly longs for her sister's fiancè
When the partition of India is officially decided, a drastic—and dangerous—change is in the air. India is now for Hindus, Pakistan for Muslims. The sisters find themselves separated from one another, each on different paths. They fear for what will happen to not just themselves, but each other.
Chitra Banerjee Divakaruni outdoes herself with this deeply moving story of sisterhood and friendship, painting an account of India's independence simultaneously exhilarating and devastating, that will make any reader—new or old—a devoted fan.
About the Author
---
Chitra Banerjee Divakaruni is an award-winning and bestselling author, poet, activist, and teacher of writing. Her work has been published in over 50 magazines, including the Atlantic Monthly and The New Yorker, and her writing has been included in over 50 anthologies, including The Best American Short Stories, the O. Henry Prize Stories, and the Pushcart Prize Anthology. Her books have been translated into 29 languages, including Dutch, Hebrew, Bengali, Russian, and Japanese; many have been used for campus-wide and city-wide reads. Several have been made into films and plays. She lives in Houston, where she teaches Creative Writing at the University of Houston.
Praise For…
---
"A powerful, gripping, and beautifully told story of three women navigating the crossroads of history. Divakaruni's eye is both unflinching and deeply compassionate, encompassing all the complexities of the sisters' lives. I couldn't put it down." — Madeline Miller, New York Times bestselling author of Circe and Song of Achilles
"A spellbinding saga of the decolonization and partition of the Indian subcontinent, with a cast of vividly drawn, compelling characters." — Amitav Ghosh, award-winning author
"A national movement unsettles a country. Only a powerful imagination can recreate how profoundly it changes three women's lives." — Nayantara Sahgal, award-winning author
"Divakaruni's latest brilliant novel coincides with the seventy-fifth anniversary of the independence of India from British rule and its partition into India, Pakistan, and East Pakistan (now Bangladesh). With great attention to detail regarding the political and religious upheaval this caused and its impact on ordinary citizens, Divakaruni tells a highly nuanced tale of a Hindu Bengali family living in the village of Ranipur near Calcutta…Woven throughout their stories is the violence, rage, and anguish of a divided nation, all stirringly depicted by Divakaruni in unforgettable prose." — Booklist (starred review)
"Divakaruni captures the upheaval and devastation of the partition of British India in this dazzling tale of three Hindu sisters caught up in the violent events...This is a must." — Publishers Weekly (starred review)
"I have long been a fan of Chitra Divakaruni's novels, but Independence is now my favorite. She tells the story of India's independence through the eyes of three sisters, each of whom is uniquely different, with her own desires and flaws. I cheered for them and cried with them as they move through the history of their country that is at once devastating, inspiring, and triumphant. You will, too." — Lisa See, #1 New York Times bestselling author
"One of Divakaruni's greatest strengths as a novelist is the sheer strength of her characterization. The psychological acuity with which she presents her characters' motivations and their leaps of faith is remarkable. . . Independence, her latest novel, is arguably her finest yet, a book that has big ambitions but an even bigger heart."  — First Post
 "For those of us who read to escape the banalities of daily life, Chitra Divakaruni's books are oxygen. She writes about India in a way that makes the rest of the world disappear around you." — Chicago Tribune
"The author's latest novel is an engaging family saga that explores resilience against a backdrop of violent national upheaval. The story is well paced as it follows its cast of characters through a chaotic world while still capturing the rich interiority of each of the three daughters. A moving depiction of family life following great loss." — Kirkus Reviews
"Lyrical and richly detailed, Independence explores the implications of its title not only for a country, but for the young women who must learn to deal with a perilous, exciting new world." — Shelf Awareness
"As a story of strife and social disarray, of blind hatred and clear-sighted courage, Independence speaks to the present moment. With its limpid and luminous prose, it effortlessly brings home the lessons of our past." — Scroll.in
"The title Independence refers not only to the Indian freedom struggle but to women's struggle for freedom. Chitra Banerjee Divakaruni, who teaches creative writing at the University of Houston, has written a powerful novel that will resonate across cultures. Three Sisters, with its Chekhovian echo, would be a good title as well." — New York Journal of Books