The Manhattan Girls: A Novel of Dorothy Parker and Her Friends (Paperback)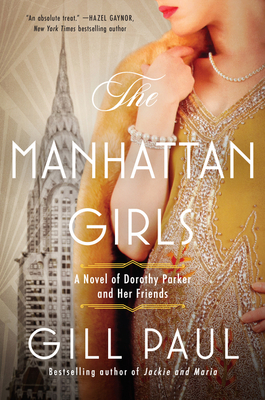 $16.99

NOT ON OUR SHELVES- available for order, usually ships in 1-5 days
Description
---
It's a 1920s version of Sex and the City, as Dorothy Parker—one of the wittiest women who ever wielded a pen—and her three friends navigate life, love, and careers in New York City. Perfect for fans of Fiona Davis, Beatriz Williams, and Renée Rosen.
NEW YORK CITY 1921: The war is over, fashions are daring, and bootleg liquor is abundant. Here four extraordinary women form a bridge group that grows into a firm friendship.
Dorothy Parker: renowned wit, member of the Algonquin Round Table, and more fragile than she seems. Jane Grant: first female reporter for the New York Times, and determined to launch a new magazine she calls The New Yorker. Winifred Lenihan: beautiful and talented Broadway actress, a casting-couch target. And Peggy Leech: magazine assistant by day, brilliant novelist by night. 
Their romances flourish and falter while their goals sometimes seem impossible to reach and their friendship deepens against the backdrop of turbulent New York City, where new speakeasies open and close, jazz music flows through the air, and bathtub gin fills their glasses. 
They gossip, they comfort each other, and they offer support through the setbacks. But their biggest challenge is keeping their dear friend Dottie safe from herself.
In this brilliant new novel from the bestselling and acclaimed author of Jackie and Maria and The Secret Wife, readers will fall right into Jazz Age New York and into the inner lives of these groundbreaking, influential women.
About the Author
---
Gill Paul is an author of historical fiction, specialising in relatively recent history. She has written two novels about the last Russian royal family: The Secret Wife, published in 2016, which tells the story of cavalry officer Dmitri Malama and Grand Duchess Tatiana, the second daughter of Russia's last tsar; and The Lost Daughter, published in October 2018, that tells of the attachment Grand Duchess Maria formed with a guard in the house in Ekaterinburg where the family was held from April to July 1918.
Gill's other novels include Another Woman's Husband, about links you may not have been aware of between Wallis Simpson, later Duchess of Windsor, and Diana, Princess of Wales; Women and Children First, about a young steward who works on the Titanic; The Affair, set in Rome in 1961–62 as Elizabeth Taylor and Richard Burton fall in love while making Cleopatra; and No Place for a Lady, about two Victorian sisters who travel out to the Crimean War of 1854–56 and face challenges beyond anything they could have imagined.
Praise For…
---
"In The Manhattan Girls, Gill Paul brings Dorothy Parker and her eclectic circle of friends roaring into life in a dazzling and daring novel... Oozing with passion and wit...this is a story for those who enjoy their novels with a side order of gin, jazz and sass. An absolute treat!" — Hazel Gaynor, New York Times bestselling author of When We Were Young & Brave
"If ever we needed escapism, it is now, and The Manhattan Girls does that perfectly, whisking you instantly away to the glittering world of 1920s New York... The story slips seamlessly between fact and fiction, evoking their world so wonderfully... A sparkling read, in so many ways!" — Liz Trenow, New York Times bestselling author of Searching for My Daughter
"The Manhattan Girls completely stole me away to The Algonquin, and the sparkling company of Dottie Parker and her girlfriends as they navigate life—and sex—in the city. Paul slips inside her characters brilliantly, blending fact and fiction so seamlessly... A total treat, full of friendship and heart, I loved it." — Eve Chase, bestselling author of The Birdcage and The Daughters of Foxcote Manor
"The Manhattan Girls is a stunning tour de force. A potent cocktail of brilliant characterization, pacey elegant writing & mesmerizing drama as four wildly clever, talented women negotiate the perils of Jazz Age New York. LOVED it!" — Tracy Rees, bestselling author of The Rose Garden
"I loved this funny and moving novel about the bonds of friendship. Putting words into the mouth of the world's wittiest woman is no mean feat, but I think Dorothy Parker would approve! The Manhattan Girls evokes all the glamour and excitement of New York in the Roaring Twenties, and at the same time highlights the private pain women faced as they struggled to be respected as equals in society." — Fiona Valpy, bestselling author of The Storyteller of Casablanca
"Well, I feel—closing the pages of this book—like I've just departed from friends. Good friends. Warm, witty, flawed, diverse friends, whose gossip and shenanigans I'll sorely miss because Gill Paul is the MISTRESS of putting you right there in the company of her characters. She is a also a magician when it comes to bringing real life historical characters to the page in her fiction, cleverly weaving fact in with what-might-have-beens. Dorothy Parker is a fascinating woman, and Gill adds to her story. This book is a real treat and I highly recommend." — Louise Beech, award-winning author of This is How We Are Human  
"The Manhattan Girls pulled me into the dazzling world of Prohibition New York and didn't let me go. At the heart of this glittering novel are four incredible women... their stories, unforgettable personalities, and deeply moving friendship make for an utterly brilliant, entirely compulsive read. It's a seductive, heady triumph." — Jenny Ashcroft, author of Under the Golden Sun
"Gill Paul's The Manhattan Girls brings to life four luminaries of the Jazz Age and the friendship that helped them wrestle their demons and achieve their dreams... It is a riveting novel about friendship's power to carry women through the grand highs and heartbreaking lows of 1920s New York." — Georgie Blalock, author of The Last Debutantes
"Sizzling and compulsive. The bright young things glitter like diamonds and party like there's no tomorrow. Four gifted young women are driven by ambition and the search for love... Meticulously researched and vividly imagined, Gill Paul expertly conjures the brilliant and brittle world of Dorothy Parker and her contemporaries." — Maggie Brookes, author of The Prisoner's Wife
"Paul strikes a balance between the cynicism of the Lost Generation and the characters' sincere desires to find happiness and stability. Witty, emotional, and intelligent."  — Booklist
"The Manhattan Girls is like a Southern comfort old fashioned. A classic, smooth cocktail!"  — Romance Junkies
"Historical fiction enthusiasts will extol Paul's riveting Sex in the City–esque novel, which includes speakeasies, bootleggers, gangsters, bathtub gin, and an impressive who's who of the rich, the famous, and the infamous of Roaring-Twenties New York City." — Library Journal
"The Manhattan Girls brings the glittering world of 1920s New York to life, blending fact and fiction for an enjoyable story." — Novels Alive
"With its glamorous, challenging yet exciting work environment, society parties, and some brave women forging their own path to a life they desire, THE MANHATTAN GIRLS is a story you would definitely enjoy." — Fresh Fiction