The Do-Over: A Novel (Paperback)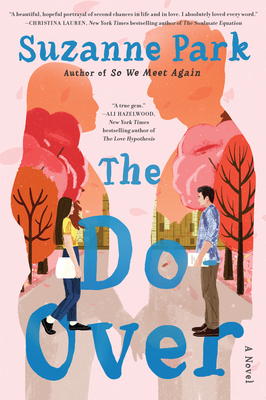 Description
---
From the author of the "genuinely funny" and "delightful" Loathe at First Sight (NPR) and "cinematic, charming" So We Meet Again (Emily Henry), a fun rom-com about a young Korean-American woman having to return to college after discovering she's a few credits shy of completing her degree—only to find one of her TAs is her old college boyfriend.
Lily Lee is a bestselling author of the How to Be a Supernova At Work series, and her editor wants her to strike while the iron's hot with a new book, How to Land the Perfect Job. But when Lily is offered a coveted position at a top firm, the employer background check reveals she's short a few college credits and never actually completed her degree. Unbelievably, her worst nightmare has come true.
Lily returns to her alma mater, reliving her senior year of college ten years later. She enrolls in classes, gets invited to frat parties, eats most of her meals with "dining dollars," and to make things even more weird and chaotic, she discovers that her computer science TA is her old college boyfriend, Jake Cho.
As Lily and Jake reconnect, she sees that her ex has done well for himself: the handsome, charming grad student appears to have his life together while Lily's so close to losing her dream job opportunity and her book deal.  
Things aren't so simple the second time around.
The Do-Over is a delightfully warm and hopeful story about second chances in love and life, and how the future we want may turn out far different than we imagined.
About the Author
---
Suzanne Park is a Korean-American writer who was born and raised in Tennessee. As a comedienne, she was selected to appear on BET's "Coming to the Stage." Suzanne was also the winner of the Seattle Sierra Mist Comedy Competition, and was a semi-finalist in NBC's "Stand Up For Diversity" showcase in San Francisco.
Suzanne graduated from Columbia University and received an MBA from UCLA. She currently resides in Los Angeles with her husband, female offspring, and a sneaky rat that creeps around on her back patio. In her spare time, she procrastinates. Loathe at First Sight is her adult debut.

Praise For…
---
"A satisfying story of overcoming your fears about expectations—other people's, and your own—and figuring out your own worth. Second-chance romance meets all the other second chances we need to give ourselves." — KJ Dell'Antonia, New York Times bestselling author of The Chicken Sisters and In Her Boots
"Funny, romantic and real-world novel. It centers on Jessie Kim, a young Korean woman who is laid off from her finance job... it tackles sexism and racism in gripping ways." — The TODAY Show on So We Meet Again
"Some books just feel like an old friend, their first pages embracing you with an instant familiarity and warmth you can't help but sink into. Suzanne Park's So We Meet Again is that kind of book...A cinematic, charming heart-squeeze-of-a-book that has found its way to my Ultimate Comfort Reads shelf." — Emily Henry, #1 New York Times bestselling author
"Loathe at First Sight bursts with humor, heart, and great energy. I loved it! Park is a hilarious new voice in women's fiction." — Helen Hoang, USA Today bestselling author of The Kiss Quotient
"A laugh out loud comedy with a warm heart. Jess's journey of finding her way amid the noise of the world's expectations will make you smile and sigh and want to chase your dreams." — Sonali Dev, award-winning author of Recipe for Persuasion
"So We Meet Again is a hilarious read. What can go wrong when, after a quarter-life crisis, you move back in with your hyper-competitive parents? This comeback story will charm you from beginning to end." — Madeleine Henry, author of The Love Proof and Breathe In, Cash Out

"Park has created a wholly original, smart, fierce heroine (with a hilarious inner voice) who takes on an industry hell-bent on underestimating her...Just like the "entertaining, fresh, snarky" video game she conjures in her novel, Suzanne Park has written a fast and fun debut, putting females in the lead." — Amy Poeppel, author of Musical Chairs and Small Admissions
"Park gives us the story that only she could create. It's hilarious, smart, and the rom-com we need!" — Alexa Martin, ALA Award-winning author of Intercepted