How to Read a Book: A Novel (Hardcover)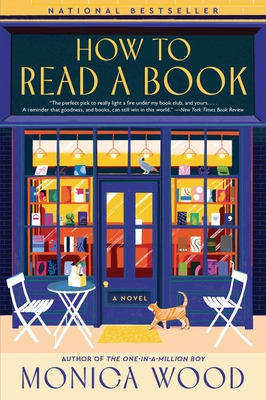 Description
---
"A beautiful, big-hearted treasure of a novel." —Lily King
From the award-winning author of The One-in-a-Million Boy comes a charming, deeply moving novel about second chances, unlikely friendships, and the life-changing power of sharing stories.
Our Reasons meet us in the morning and whisper to us at night. Mine is an innocent, unsuspecting, eternally sixty-one-year-old woman named Lorraine Daigle…
Violet Powell, a twenty-two-year-old from rural Abbott Falls, Maine, is being released from prison after serving twenty-two months for a drunk-driving crash that killed a local kindergarten teacher.
Harriet Larson, a retired English teacher who runs the prison book club, is facing the unsettling prospect of an empty nest.
Frank Daigle, a retired machinist, hasn't yet come to grips with the complications of his marriage to the woman Violet killed.
When the three encounter each other one morning in a bookstore in Portland—Violet to buy the novel she was reading in the prison book club before her release, Harriet to choose the next title for the women who remain, and Frank to dispatch his duties as the store handyman—their lives begin to intersect in transformative ways.
How to Read a Book is an unsparingly honest and profoundly hopeful story about letting go of guilt, seizing second chances, and the power of books to change our lives. With the heart, wit, grace, and depth of understanding that has characterized her work, Monica Wood illuminates the decisions that define a life and the kindnesses that make life worth living. 
. 
About the Author
---
Monica Wood is a novelist, memoirist, and playwright; the 2019 recipient of the Maine Humanities Council Carlson Prize for contributions to the public humanities; and a recipient of the Maine Writers and Publishers Alliance Distinguished Achievement Award for contributions to the literary arts. She lives in Portland, Maine, with her husband, Dan Abbott, and their cat, Susie.
Praise For…
---
"I laughed and wept my way straight through How to Read a Book. What a beautiful, big-hearted treasure of a novel!"
— Lily King, New York Times bestselling author of Euphoria and Writers
"What a master of plot and character Monica Wood is. I love the various worlds How to Read a Book took me to: a prison, a bookshop, and a laboratory, all in Portland, Maine. And I love how hopefully Wood writes about grief and second chances on behalf of her three protagonists. Surely everyone who reads this novel will want to offer Ollie, a voluble African grey parrot, a home." — Margot Livesey, New York Times bestselling author of The Boy in the Field and The Flight of Gemma Hardy
"A young female ex-con, a widower who was collateral damage, and a woman who runs the prison bookclub—three indelible voices (and let's not forget one extraordinary parrot's), remind us that life is full of mysteries, and sometimes the ones we believe are unsolvable as the ones that might save us. About second chances (our lives need not be apologies), the weight of forgiveness, our bond with our books, and the stubborn way love can make us see a world shining with mercy, Wood's new novel is both incandescent and unforgettable."   — Caroline Leavitt, New York Times bestselling author of With or Without You and Pictures of You