A Beautiful Rival: A Novel of Helena Rubinstein and Elizabeth Arden (Paperback)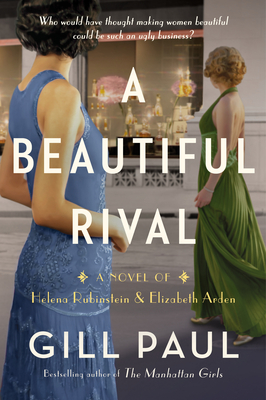 $18.99

NOT ON OUR SHELVES- available for order, usually ships in 1-5 days
Description
---
In this stunning new novel, bestselling author Gill Paul reveals the unknown history of cosmetic titans Elizabeth Arden and Helena Rubinstein and their infamous rivalry that spanned not only decades, but also broken marriages, personal tragedies, and a world that was changing dramatically for women—perfect for fans of Fiona Davis, Marie Benedict, and Beatriz Williams.
Who would have guessed that the business of making women beautiful was so cutthroat?
They could have been allies: two self-made millionaires who invented a global industry, in an era when wife and mother were supposed to be the highest goals for their sex. Elizabeth Arden and Helena Rubinstein each founded empires built on grit and determination…and yet they became locked in a feud spanning three continents, two world wars, and the Great Depression.
Brought up in poverty, Canadian-born Elizabeth Arden changed popular opinion, persuading women from all walks of life ­to buy skincare products that promised them youth and beauty. Helena Rubinstein left her native Poland, and launched her company with scientific claims about her miracle creams made with anti-ageing herbs.
And when it came to business, nothing was off-limits: poaching each other's employees, copying each other's products, planting spies, hiring ex-husbands, and one-upping each other every chance they had. This was a rivalry from which there was no surrender! And through it all were two women, bold, brazen, and determined to succeed—no matter the personal cost.
In this sweeping novel from the bestselling author of Jackie and Maria and The Manhattan Girls, two larger-than life fashion icons come alive with all their passion, bitterness, and ambition as they each try to live the American dream.
About the Author
---
Gill Paul has written thirteen historical novels, many of them re-evaluating extraordinary 20th-century women whom she thinks have been marginalized or misjudged by historians. Her books have reached the top of the US, Canadian, and UK charts, and have been translated into twenty-three languages.
Gill was born and raised in Scotland, apart from an eventful year at school in the US when she was ten. She worked as an editor in nonfiction publishing, then as a ghostwriter, before giving up the "day job" to write fiction full-time. She is also an events organizer for the Historical Writers Association.
Gill loves wild swimming year-round, arranging parties, and traveling whenever and wherever she can.
Praise For…
---
"Gill Paul's fascinating novel shows us that behind the lipsticks and lotions were two compelling, ambitious and passionate women who were responsible for the birth of the global beauty industry. Few women leave such an extraordinary legacy as Helena Rubinstein and Elizabeth Arden and Paul's impeccable research brings to life their rivalry and their personal struggles, showing us that, for two women intent on outdoing one another, they actually had a lot in common, which makes for a poignant and timeless story." — Natasha Lester, New York Times bestselling author of The Paris Orphan
"A brilliantly entertaining novel about the ugly side of the beauty business. With incredible attention to detail, Gill Paul takes the reader up close and personal with Arden and Rubenstein and their battle for dominance in the emerging beauty industry of the 1900s. Paul blends fact and fiction as smoothly as Arden's Venetian cream, and with pithy dialogue and a wicked sense of humor, brings her leading ladies and their outrageous backstabbing and jealousies roaring to life on the page. An absolute decadent joy from beginning to end, this is the perfect summer read!" — Hazel Gaynor, New York Times bestselling author of The Last Lifeboat
"Gill Paul brings Elizabeth Arden and Helena Rubinstein to life on the pages of her new historical novel, A Beautiful Rival. Exposing the raw, ugly side of the beauty industry, Paul delivers two headstrong, passionate women, willing to do whatever it takes to build their empires. With meticulous research and Paul's signature skillful storytelling, readers will be swept up in this fascinating, and intimate portrait of these cosmetic titans." — Renée Rosen, USA Today bestselling author of Fifth Avenue Glamour Girl
"A delicious look at the high-stakes rivalry that defined a century of beauty. Gill Paul masterfully weaves skillful storytelling with an acute eye for glamor to make A Beautiful Rival an utterly compelling read." — Julia Kelly, international bestselling author of The Lost English Girl
"Glamorous and fascinating. Two businesswomen ahead of their time, a tense rivalry in a beautiful world, an intriguing story expertly told. I was completely riveted." — Tracy Rees, international bestselling author of The Elopement
"A fascinating tale of two determined, glamorous businesswomen locked in a battle for supremacy. Gill Paul is a mistress of the fictional historical biography." — Rachel Hore, bestselling author of The Love Child and One Moonlit Night
"Scandal, sabotage and spies. Who knew the beauty industry was so cutthroat! This was a thoroughly compulsive and addictive read. Gill is such a clever writer, deftly peeling back the layers of these two formidable doyennes to reveal their tender, vulnerable core. It had me up way past my bedtime racing to that enormously satisfying end!" — Kate Thompson, bestselling author of The Little Wartime Library
"A delicious page-turner of a novel about the rivalry between beauty titans Elizabeth Arden & Helena Rubinstein. Spanning two world wars and full of fascinating period detail, I really enjoyed this story about two formidable women, driven by a mutual desire to succeed, no matter what." — Jacquie Bloese, bestselling author of The French House
"A fascinating insight into two titans of the cosmetic industry, mirror images in business and in love, both insatiable in their ambition yet hobbled by their flaws. Readers will love this juicy and well told tale." — Bryn Turnbull, international bestselling author of The Woman Before Wallis
"I devoured this novel about two astounding self-made multimillionaires. It's a meticulously researched tale of rivalry, revenge, passion, prejudice and unimaginable wealth. Their intertwined rags-to-mega-riches stories are so extraordinary they read like compulsive fiction, but these women really lived." — Maggie Brookes, author of The Prisoner's Wife and Acts of Love and War
"No one writes like Gill Paul. She has this incredible gift for spinning fact into fiction, immersing the reader utterly in the brilliant, page-turning worlds she creates, bringing the most iconic of figures to vivid, sparkling life. In A Beautiful Rival, she does this for famed rivals, Elizabeth Arden and Helena Rubinstein, portraying their passion. ambition, loves, and insecurities, so truly that I've been left feeling I know them. I think this might just be her best yet!" — Jenny Ashcroft, author of The Echoes of Love and Beneath A Burning Sky
"This is an utterly compelling, astonishing tale of two extraordinary self-made women who, between them, and in part due to their visceral rivalry, invented the multi-billion beauty industry we so well recognize today. With her impeccable research and engaging storytelling, Gill Paul skillfully takes her reader on a spell-binding journey with Elizabeth and Helena, which only gets more remarkable with every turn of the page. I shall be recommending this book to everyone and it is, for sure, one of my favorite reads of the year!" — Louise Fein, author of People Like Us and The Hidden Child
"I ripped through this delicious take on the longstanding catfights between two legends of the beauty industry. Think Dynasty set against the dazzle and glitz of New York in the first half of the twentieth century, with miracle creams, diamonds and racehorses thrown in for good measure. Unputdownable." — Sarah Steele, author of The Schoolteacher of San Michel and The Lost Song of Paris
"Paul's latest (after The Manhattan Girls, 2022) is a dramatic take on two of the most successful women of the twentieth century, full of rich detail. Not without sacrifice, these women boldly made names for themselves. A great historical read for fans of strong female characters who have something to prove." — Booklist