Unladylike Lessons in Love: A Marleigh Sisters Novel (The Marleigh Sisters #1) (Paperback)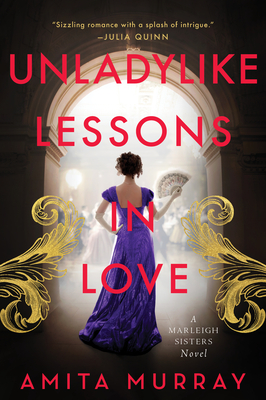 Other Books in Series
This is book number 1 in the The Marleigh Sisters series.
Description
---
"Sizzling romance with a splash of intrigue." —Julia Quinn
Amita Murray takes us on a journey from the pleasure gardens of society to the dangerous streets of 19th century London, in this spectacular romantic debut by an unforgettable new voice. 
"Women mind their reputation if they want to marry. I don't want to marry."
As the eldest daughter of an English earl and his Indian mistress, Lila Marleigh knows what it's like to be an outsider from "polite" society. As children, she and her sisters were wrenched from their home and sent to England, never quite accepted by those who claimed to care for them. Now Lila has set herself up as hostess of an exclusive gaming club, charming the ton that flocks to her establishment each night, though it shuns her by day. 
One night, Ivor Tristram comes barging through her door, accusing her of being his father's mistress. Lila defies his expectations at every step and convinces him to navigate London's rat pits and pleasure gardens with her, in her quest to solve a violent crime.
As they set out together to uncover the truth, an irresistible passion ignites that will shake them to the core. Lila must fight to protect those she loves, yet the biggest threat is to the sanctity of the heart she has guarded so carefully all her life. 
About the Author
---
Amita Murray lives in London and can be found writing and tweeting about life and chocolate. Her novels take you on a romp through the edgier streets of Regency England. Her Arya Winters mysteries are under a TV option. Her mystery novel Thirteenth Night won the Exeter Novel Prize and her short story "A Heist in Three Acts" appeared in Ellery Queen Mystery Magazine. She's been writer-in-residence with the British Council, Spread the Word, Leverhulme, and Literature Works, and she is committed to finding that magic button that creates more diversity in publishing.
Praise For…
---
"Sizzling romance with a splash of intrigue." — Julia Quinn
"Lila Marleigh is a smart, unconventional and independent English-Indian beauty who controls what's allowed into her iced champagne punch, her gaming establishment and her life… till Ivor Tristram turns up and yes, it's a romance and mystery and Lila is charming, but it's the painful secret at the heart of her family that leaves me wanting even more. Are the Marleighs going to be the next Bridgertons? I can only hope!" — Ovidia Yu, author of The Crown Colony Series and Aunty Lee's Delights
"This romantic adventure bolts from the first page while following professional hostess Lila Marleigh as she untangles a crime and finds lust—or is it love? You'll have to finish this in one sitting—call in sick!" — Sumi Hahn, author of The Mermaid From Jeju
"A superbly crafted historical novel, and a romance that doubles up as a mystery, with a delicious Indian twist—what's not to love? Amita Murray's brilliant take on a traditional Regency romance is smoking hot—and heartbreakingly realistic about the racial and class divide that dominated 18th century English society. I can't wait to read the next book." — Harini Nagendra, author of The Bangalore Detectives Club 
"Amita Murray brings a multifaceted Regency London vividly to life in this oh-so-steamy romance featuring a captivating heroine, a sexy hero, and a high-stakes mystery. A stay-up-til-dawn page-turner!" — Felicity George, author of A Lady's Risk
"Murray ("Arya Winters" mystery series) makes her romance debut with this first series installment, a Regency romance that doubles as a moving mystery. Rich, realistic detail immerses readers in all manner of London locales, from regal to rat-infested. The narrative is both charming and charged with suspense, yielding a captivating and compelling reading experience. This book will appeal to readers seeking a multicultural historical romance heavy on adrenaline and intrigue. Recommended for fans of Sarah MacLean, Eva Leigh, and Julia Quinn." — Library Journal