Operational Updates
Reopening for in-person browsing: JUNE 6
store hours: 12pm to 6pm everyday
We are still accepting online orders, as well as care package orders at this link.
New Customer Guidelines:
No Mask, No Entry. If you don't have a mask, knock on the door and a staff member will bring you one that you can keep.
Browse with intention. Don't touch every book in the store if you don't have to.
In order to ensure touchless checkout, we are not accepting cash at this time.
Only 7 customers are allowed in the store at one time.
No pets at this time.
Children need to be vigorously supervised; they cannot leave your side while you are browsing.
All seating areas are closed.
Our tea service is currently suspended, but you can still buy the tea leaves to make at home.
The Terrible: A Storyteller's Memoir (Paperback)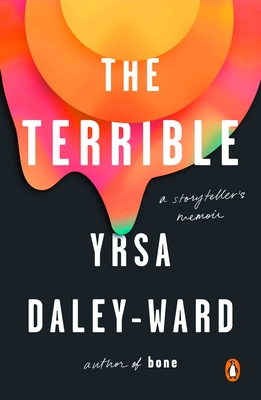 Description
---
Winner of the PEN Ackerley Prize • Longlisted for the 2019 PEN Open Book Award

"Devastating and lyrical." —The New York Times

"Suspenseful and affecting." —The New Yorker

From the celebrated poet behind bone, a collection of poems that tells a story of coming-of-age, uncovering the cruelty and beauty of the world, going under, and finding redemption

Through her signature sharp, searing poems, this is the story of Yrsa Daley-Ward and all the things that happened. "Even the terrible things. And God, there were terrible things." It's about her childhood in the northwest of England with her beautiful, careworn mother Marcia; the man formerly known as Dad (half fun, half frightening); and her little brother Roo, who sees things written in the stars.

It's also about the surreal magic of adolescence, about growing up and discovering the power and fear of sexuality, about pitch-gray days of pills and powder and connection. It's about damage and pain, but also joy. With raw intensity and shocking honesty, The Terrible is a collection of poems that tells the story of what it means to lose yourself and find your voice.

"You may not run away from the thing that you are
because it comes and comes and comes as sure as you breathe."
About the Author
---
Yrsa Daley-Ward is a writer and poet of mixed West Indian and West African heritage. Born to a Jamaican mother and a Nigerian father, Yrsa was raised by her devout Seventh Day Adventist grandparents in the small town of Chorley in the North of England. She splits her time between London and New York.
Praise For…
---
Longlisted for the 2019 PEN Open Book Award

"Devastating and lyrical."
—The New York Times

"Though her plainspokenness resembles Rupi Kaur's accessibility, Daley-Ward has a specific story to tell, one that is suspenseful and affecting in its details."
—The New Yorker

"A coming-of-age memoir . . . of particular lyricism and bracing honesty."
—The New York Times Book Review

"A few months ago, I thought I lost my love for reading. I spent weeks putting books down after a few pages. Nothing spoke to me. Then one magical day, I stumbled on The Terrible. . . . Daley-Ward's beautiful prose wrapped its hands around my neck—I found myself doing stupid things like walking through New York at rush hour with my nose buried in her book."
—Jamal Jordan, The New York Times Book Review (New & Noteworthy)

Elle's Best Books to Read This Summer

"Profoundly beautiful . . . [Daley-Ward] interweaves verse and prose to great effect, offering less a simple retelling of her life, and more of an impression of it, a sense of how it must feel to live it. Much of what Daley-Ward recounts of her childhood is devastating . . . and she has a unique ability to tell these parts of her life with an unflinching intensity, the kind that sears itself onto your skin; and yet this is not a story without hope or love."
—Nylon (Great Books To Read This Summer)

"I tore through Yrsa Daley-Ward's poetic memoir, The Terrible, in a matter of hours. . . . An impressive take on the memoir that prioritizes emotion over event."
—The Paris Review (Staff Picks)

"Absolutely stunning . . . a poetic look at someone's life."
—Lauren Christensen, CBS This Morning

"[Yrsa Daley-Ward] makes the emotional brutality of dealing with family, adolescence, addiction, and sexuality accessible to her readers. . . . She continually incorporates gut-wrenching imagery in her work, and in both bone and The Terrible, she packages heightened emotion into just one or two lines."
—Ploughshares

"Unflinching . . . The Terrible's raw yet lilting prose draws the reader in at once. Unpredictable shifts in form and structure—from prose to poetry and script—are refreshingly disorientating. This is both a defiant book and a defiantly inventive one."
—The Times Literary Supplement (London)

"Open up the first page of Yrsa Daley-Ward's genre-defying memoir, and you'll find yourself immediately transfixed by her rhythmic language. Ward unspools the story of her difficult coming-of-age as it felt, foregoing the pacing of a conventional memoir for something more poetic and visceral . . . in this book, her unique voice has room to grow roots on the page."
—Refinery29 (Best Books Of June 2018)

"Devastating, in the very best way . . . generous, utterly human, and, eventually, hopeful."
—Buzzfeed (Exciting New Books To Add To Your Summer Reading List)

"Daley-Ward splits herself wide open in her lyrical memoir." 
—Bustle (New Books To Read This Week)

"Yrsa Daley-Ward is laying her pain bare and turning it into uplifting, unconventional poetry. . . . If readers thought she bared her soul through bone, her memoir The Terrible will be another lesson in how to fearlessly turn the pain of her past into uplifting prose." 
—PopSugar

"Yrsa Daley-Ward has left all of herself on the page yet again. . . . An emotional look at growing up."
—HelloGiggles

"Daley-Ward beautifully recounts her life thus far, equally reflecting on the wonderful and the terrible."
—Medium (21 New Books You Should Read this Summer)

"[The Terrible is] powered by the strains of family separation, sexuality, and dreams."
—The Millions (Must-Read Poetry)

"Beautiful and honest."
—Joanna Goddard, A Cup of Jo

"A powerful, unconventionally structured memoir recounting harrowing coming-of-age ordeals . . . Daley-Ward resists classification in this profound mix of poetry and prose. . . . [She] has quite a ferociously moving story to tell."
—Kirkus (starred)


More praise for Yrsa Daley-Ward

"Yrsa's work is like holding the truth in your hands. It sweats and breathes before you. A glorious living thing."
—Florence Welch, of Florence + the Machine

"daley-ward effortlessly mines the bone. the diamond from the difficult. the things that are too bright and taboo. she lays her hands on the pulse of the thing. . . . an expert storyteller. of the rarest. and purest kind . . . daley-ward's extraordinary talent. ability. to both see and write the veins of the true life. the true lives. is a gift. a breath."
—nayyirah waheed, author of salt. and nejma

"[Daley-Ward] has a knack for getting directly to a story's heat-point, and once there, to distill the emotions within it down to a line or two."
—Hanif Abdurraqib, The Atlantic

"Daley-Ward's short poems cover subjects like depression, falling in and out of love, and sexuality, with a fierce staccato that, as the title suggests, cuts deep."
—Vogue 

"[A] stunning excavator of human heat and light."
—HuffPost