Operational Updates
Click HERE for the most updated hours, customer guidelines and updates to store policy.
Uncivil Agreement: How Politics Became Our Identity (Paperback)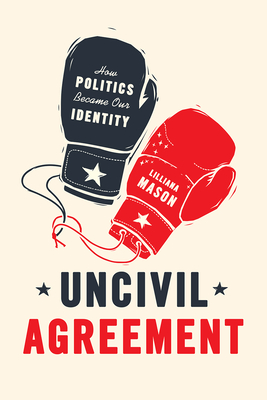 $23.00

NOT ON OUR SHELVES- available for order, usually ships in 1-5 days
Description
---
Political polarization in America is at an all-time high, and the conflict has moved beyond disagreements about matters of policy. For the first time in more than twenty years, research has shown that members of both parties hold strongly unfavorable views of their opponents. This is polarization rooted in social identity, and it is growing. The campaign and election of Donald Trump laid bare this fact of the American electorate, its successful rhetoric of "us versus them" tapping into a powerful current of anger and resentment.
           
With Uncivil Agreement, Lilliana Mason looks at the growing social gulf across racial, religious, and cultural lines, which have recently come to divide neatly between the two major political parties. She argues that group identifications have changed the way we think and feel about ourselves and our opponents. Even when Democrats and Republicans can agree on policy outcomes, they tend to view one other with distrust and to work for party victory over all else. Although the polarizing effects of social divisions have simplified our electoral choices and increased political engagement, they have not been a force that is, on balance, helpful for American democracy. Bringing together theory from political science and social psychology, Uncivil Agreement clearly describes this increasingly "social" type of polarization in American politics and will add much to our understanding of contemporary politics.
About the Author
---
Lilliana Mason is associate research professor of political science at Johns Hopkins University's SNF Agora Institute and Department of Political Science. She is author of Uncivil Agreement: How Politics Became Our Identity.
Praise For…
---
"One of the most important books this year . . . . This is the kind of research that will change not just how you think about the world but how you think about yourself."
— Ezra Klein

"Sobering. . . . Mason argues that factors such as class, race, religion, gender, and sexuality used to cut across one another to a significant extent. . . . In the past decades, though, 'partisan, ideological, religious, and racial identities have moved into strong alignment. . . . A single vote can now indicate a person's partisan preference as well as his or her religion, race, ethnicity, gender, neighborhood and favorite grocery store.'"
— Yascha Mounk

"Highly recommended. . . . In describing American politics today, Mason argues that partisan identity (Democrat or Republican) has become a 'mega-identity' because it increasingly combines a number of different identities. . . . And which party people belong to is important because there is some evidence that instead of people choosing their party affiliation based on their political views (and changing parties if their views are no longer represented by that party), they shift their views to align with their party identity."
— Perry Bacon Jr.

"Recent debates about partisan polarization have focused primarily on ideology and policy views. In Uncivil Agreement, social identity moves to the center of how to think about the differences that divide the country."
 
— New Books Network

"Uncivil Agreement opens a window to a better understanding of the 'why' behind the polarization of contemporary American politics. This is a groundbreaking book, combining an interesting and important theoretical approach with strong empirical data, and it will have real impact."­
— David P. Redlawsk, University of Delaware

"A must-read for anyone trying to understand the increasingly polarized nature of American politics. Mason offers a psychological identity-based explanation for today's polarized politics, an explanation that provides insights both into its most important attitudinal and behavioral consequences, but also into possible approaches that could help move the American public a few steps back from the precipice."
— Richard R. Lau, Rutgers University

"The mutual disdain felt by Democrats and Republicans around the country has reached toxic levels, and it is having profound consequences for the quality of our policies, not just our politics. How did we get here? Mason's brilliantly designed research and compelling writing reveal the most convincing explanation to date."
— Nicholas Valentino, University of Michigan

"Mason describes social polarization in the USA and its political parties, a sorting that generated distinct psychological and behavioural outcomes. Americans have sorted into politically partisan (party support, based on ideology and policy positions) groups and social (racial, religious, geographic, ideological) groups. Because of social sorting, greater polarization of both parties has occurred. This polarization has generated greater partisan prejudice, more political action and more emotionality (reactivity). Her book explains how a well-sorted set of partisan and social identities, a phenomenon beginning in the 1950s and well underway before Obama was elected, is uniquely capable of motivating three polarizations—more partisan, more action and more emotion."
— Eleanor D. Glor