Operational Updates
Click HERE for the most updated hours, customer guidelines and updates to store policy.
Wordsworth's Fun (Paperback)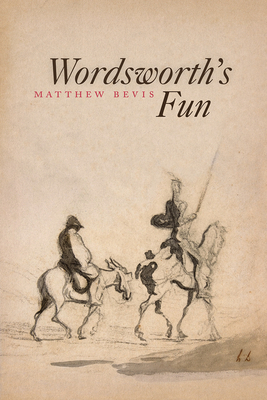 Description
---
"The next day Wordsworth arrived from Bristol at Coleridge's cottage," William Hazlitt recalled, "He answered in some degree to his friend's description of him, but was more quaint and Don Quixote- like . . . there was a convulsive inclination to laughter about the mouth." Hazlitt presents a Wordsworth who differs from the one we know—and, as Matthew Bevis argues in his radical new reading of the poet, this Wordsworth owed his quixotic creativity to a profound feeling for comedy.

Wordsworth's Fun explores the writer's debts to the ludic and the ludicrous in classical tradition; his reworkings of Ariosto, Erasmus, and Cervantes; his engagement with forms of English poetic humor; and his love of comic prose. Combining close reading with cultural analysis, Bevis travels many untrodden ways, studying Wordsworth's interest in laughing gas, pantomime, the figure of the fool, and the value of play. Intrepid, immersive, and entertaining, Wordsworth's Fun sheds fresh light on how one poet's strange humor helped to shape modern literary experiment.
 
 
About the Author
---
Matthew Bevis is professor of English at the University of Oxford. He is the author of The Art of Eloquence, Comedy: A Very Short Introduction, and Lessons in Byron. His essays have appeared in the London Review of Books, Harper's, Poetry, and Raritan.
 
Praise For…
---
"Bevis has done something genuinely valuable by drawing attention to Wordsworth's humour. A poem can be a risk akin to a joke. Like a joke it depends on an intricate connection between your own sense of timing and the good faith of an audience. As with a joke an audience has got to want to take it the right way for the performance of a poem to work. Bevis is particularly good on moments in Wordsworth that activate those risks. But what's cumulatively impressive about his book is the multiplicity of kinds of comedy it explores."
— Colin Burrow

"Refreshingly free from pomposity . . . the general effect of the book's thesis is enjoyable and enlightening, and it also produces some rewarding sidelines . . . . The principal strength of Bevis's argument is to show that by allowing fun to be a part of what we associate with Wordsworth, we better understand the ways in which the poet did and did not identify with the other characters who appear in his poems. . . as well as the ways in which he heightens the sense of his own self in his own eyes."
— Andrew Motion

"Matthew Bevis has not only found a new Wordsworth to offer readers, but revealed an essential, elemental component of Wordsworth's character as a writer . . . Bevis finds fun in the most widely read and studied canonical poems (such as 'I wandered lonely as a Cloud', 'Ode: Intimations of Immortality', and The Prelude) as well as the most derided and challenging works ('The Idiot Boy', 'The Thorn', Peter Bell, The Borderers). I'm not sure which is more impressive: the new perspectives Bevis brings to the former, or the assurance with which he illuminates the latter. . . . [he] has cultivated a lightness of touch in his criticism that leaves just enough unsaid to preserve the strangeness and irresolution, the 'unconsummated meaning', indispensable to fun . . . There is no lack of depth or rigour in Bevis's contextual and intertextual research . . . [his] recasting of allusion as 'a form of play' . . . is one of the many exciting critical developments in this book that should inspire future Wordsworth studies . . .Wordsworth's Fun will be the definitive portrait of a new, vital, and delightful Wordsworth."
— Tess Somervell

"In Wordsworth's Fun Bevis applies the same playfulness and deep erudition to a most unlikely subject—the early Wordsworth. . . . In his dazzling close readings, Bevis attends to small matters. Why did Wordsworth, he wonders, change 'laughing' to 'jocund' in describing the daffodils?. . . . Wordsworth's Fun is a brilliant, rich and persuasive book and Matthew Bevis is not only just a highly original academic, but also a thoroughly engaging companion. . . . We will never read Wordsworth in quite the same way again."
— Jane Darcy

"Bevis's genuinely essayistic methodology. . . is committed to giving counterintuitive readings the space they need to become gripping, convincing, and even moving. Bevis doesn't say so until the book is half done, but he is trying to avoid 'A thought. . . which never undergoes the tribulation of failure, a kind of intelligence that fears idiocy,' in the words of Jean-Bertrand Pontalis. He is trying not to play it safe. Reading his analyses is like watching a television detective as he strings coloured twine between Polaroids on a bulletin board, with the same flash of excitement as you realise he's right."
— Katherine Bergren

"Wordsworth's Fun sets out to show that the poet's uses of humour are, in fact, altogether deeper and stranger than popular caricature allows . . . this is the sort of study you want to tear passages out of and tuck inside the Complete Poems to inform all future readings . . . This Wordsworth is both 'egotistically sublime and ridiculous', mercurial as Bevis's own essayistic quickness. His close readings are sharpened by a formalist's instinct for singularity, holding up rare rhymes and rhythms to the analytic light, while his literary history is enlivened by a gregarious range of reference from the eighteenth to twenty-first centuries . . . It is the effect of this excellent and generous study, so full of original insights, to be suggestive of further fun."
— Jeremy Noel-Tod

"Harold Bloom was fond of saying that the genius of a book could be measured by the number of times per page that it made one's jaw drop in amazement. By such a standard, Bevis has written a book of consummate genius, for virtually every page is filled with insights startlingly new and moving. To find a book about Wordsworth this important and this breathtakingly beautiful, one may have to go back to Geoffrey Hartman's Wordsworth's Poetry (1964); but unlike Bevis's book, not even Hartman's monumental monograph can be called in any ordinary sense a 'fun read.' Since 1964, there are perhaps a half-dozen books exclusively about Wordsworth that I would cling to—in the words of the Arab in Wordsworth's dream—as 'something of more worth' than shelves upon shelves of other books. But I cannot think of one other that seems to be such 'An Ode, in passion uttered,' that is so sublime and so humorous, so perceptive about its poet and so transcendent of its ostensible subject."
— Leslie Brisman

"After the sublime effrontery of that title, a subtitle would be supererogatory, would it not? And yet I believe that any fair-minded reader of Matthew Bevis's book will agree that he makes his case. This is the most sheerly enjoyable work of literary criticism I've read in years."
— John Wilson

"Strikingly original. . . . I can think of no modern critic except William Empson who regularly calls upon us in this manner. . . . Wordsworth's Fun is a work of profound and playful commentary that presents a great poet freshly to us."
— William H. Pritchard

"Wordsworthians will devour this book. Bevis begins with William Hazlitt, who thought of Don Quixote on meeting Wordsworth and later observed, 'To one class of reader he appears sublime, to another (and we fear the larger) ridiculous'. In this book, Bevis addresses the former class of readers, but he might well convert the latter."
— Choice

"Bevis says he is not trying to save Wordsworth from himself, but he brilliantly rescues the poet from two very large groups of would-be possessors: his solemn admirers and his solemn detractors. Life for the Wordsworth evoked in this book is too serious to be taken only seriously—he believes, as Bevis says, 'that only one sort of feeling about a subject isn't enough.' Bevis's double claim is richly sustained: that Wordsworth is more fun than we may have thought, and that fun itself is more Wordsworthian than we have imagined."
 
— Michael Wood, Princeton University

"Wordsworth's Fun: surely that's an oxymoron, or a joke? But Bevis is serious. Showing how much Wordsworth and fun have to teach us about each other, Bevis de-familiarizes his monumental subject and returns the poet to his essential human strangeness. In the process, this book makes a literary contribution to the small shelf of philosophical and psychoanalytic works that think hard about the nature of laughter and play." 
— Langdon Hammer, Yale University

"When was the last time you read a hefty book about an indefatigably English poet for pleasure, the pleasure of tracking a mind's encounter with what interests it? Bevis possesses the most lively mind of any critic writing today, capable simultaneously of intense concentration and wide-eyed distractibility. Every page of this book feels as surprising as it feels inevitable." 
— James Longenbach, University of Rochester

"From its provocative title through its subtle and dazzling readings, Wordsworth's Fun reopens a case one might have thought not only closed but nonexistent. Bevis brilliantly pursues the queer conundrum the poet's contemporaries better recognized (even if they often censured it): how Wordsworth sounded out the ludic in the ludicrous, the fun in the funereal, the wit in the withheld, the daftness in daffodils, the glee in what's agley. Elegant, absorbing, and often (yes) fun, Bevis's book is a bravura inquiry that looks hard at the rebarbative often obscured pleasures of this poet. Bevis offers not only vivifying readings of signal poems – lyrical ballads, the Lucy poems, passages in The Prelude – but a model for reading and hearing the allusive counter-pressures throughout Wordsworth's oeuvre. Bevis reanimates Wordsworth's perverse funny-peculiar poetics of pleasure; his Wordsworth profoundly registers the tragi-comedy of subjectivity itself. This book could do for Wordsworth what, say, Christopher Ricks and Marjorie Levinson differently did for Keats: instead of saving the poet from his critics, Bevis illuminates and transvalues (without dismissing) what's embarrassingly ridiculous in Wordsworth's works and commitments. This is a companionable, dizzying, pleasing, and revelatory book. It teases us out of and into thought."
— Maureen N. McLane, New York University