Operational Updates
Click HERE for the most updated hours, customer guidelines and updates to store policy.
Untying Things Together: Philosophy, Literature, and a Life in Theory (Hardcover)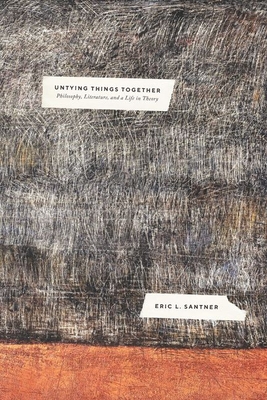 Description
---
Untying Things Together helps to clarify the stakes of the last fifty years of literary and cultural theory by proposing the idea of a sexuality of theory.

In 1905, Freud published his Three Essays on the Theory of Sexuality, the book that established the core psychoanalytic thesis that sexuality is central to formations of the unconscious. With this book, Eric L. Santner inverts Freud's title to take up the sexuality of theory—or, more exactly, the modes of enjoyment to be found in the kinds of critical thinking that, since the 1960s, have laid claim to that ancient word, "theory." Santner unfolds his argument by tracking his own relationship with this tradition and the ways his intellectual and spiritual development has been informed by it.

Untying Things Together is both an intellectual history of major theoretical paradigms and a call for their reexamination and renewal. Revisiting many of the topics he has addressed in previous work, Santner proposes a new way of conceptualizing the eros of thinking, attuned to how our minds and bodies individually and collectively incorporate or "encyst" on a void at the heart of things. Rather than proposing a "return to theory," Santner's book simply employs theory as a way of further "(un)tying together" the resources of philosophy, art and literature, theology, psychoanalysis, political thought, and more.
About the Author
---
Eric L. Santner is the Philip and Ida Romberg Distinguished Service Professor in Modern Germanic Studies at the University of Chicago. He is the author of several books and coauthor of Sovereignty, Inc.: Three Inquiries in Politics and Enjoyment, also published by the University of Chicago Press.