Operational Updates
Click HERE for the most updated hours, customer guidelines and updates to store policy.
Let's Play Doctor: The Instant Guide to Walking, Talking, and Probing Like a Real M.D. (Paperback)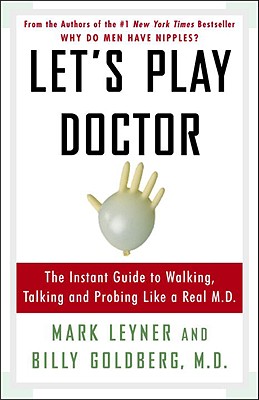 Description
---
CONGRATULATIONS
Your purchase of this book means that the admissions committee has thoroughly reviewed your application and we are pleased to welcome you to the Why Do Men Have Nipples School of Medicine.*
*A not quite fully accredited institution
Let's Play Doctor is your instant guide to becoming a Real Fake Doctor. At the Why Do Men Have Nipples School of Medicine, we offer an informative, immersive, and incredibly entertaining course of study that will give you the special skills needed to get your M.D. on By following the lessons in Let's Play Doctor, you ll learn:
Special mental exercises to give yourself that buff, bulging Doctor brain
How to impress your peers with big, polysyllabic, esoteric medical lingo (can you say pneumonoultramicroscopicsilicovolcanokoniosis?)
Easy ways to diagnose your girlfriend's goiter or your father's fistula
Do-it-yourself surgeries from hemorrhoidectomy to breast enlargement
And, most important, how to craft a completely believable, official-sounding get-out-of-work-for-medical-reasons note
Tuition? Just $14.95. Enroll today It's time to play doctor
About the Author
---
MARK LEYNER is the author of My Cousin, My Gastroenterologist; Et Tu, Babe; and The Tetherballs of Bougainville. He has written a variety of movies and television shows. BILLY GOLDBERG, M.D., is an emergency medicine physician at Bellevue Hospital and NYU Langone Medical Center in New York City. He is also the host of a weekly show on Sirius Satellite Radio s Doctor Radio channel. Together, they are the authors of the #1 New York Times bestsellers Why Do Men Have Nipples? and Why Do Men Fall Asleep After Having Sex?"