Grace and the Preacher: A Novel (Paperback)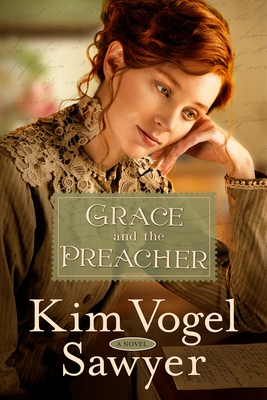 $14.99
Usually Ships in 1-5 Days
Description
---
Mistaken identity leads to romance, laughter, and second chances in this inspirational historical romance.

At the age of twenty-three, postmistress Grace Cristler has all but given up hope of finding a husband among the narrowing group of eligible men in her town of Fairland, Kansas. But when her uncle decides to retire from the pulpit, Grace is responsible for corresponding with the new preacher set to take his place. She can't deny the affection growing in her heart for Reverend Rufus Dille—a man she deeply admires but has only met through his letters.
 
Theophil Garrison is on the run from his past. Ten years ago his outlaw cousins convinced him to take part in a train robbery, but Theo fled the scene, leaving his cousins to face imprisonment. Now they've finished their sentences, but the plan for vengeance has just begun. Branded a coward and running for his life, Theo has aa chance encounter that could provide him with the escape he needs. 
 
But the young man's desperate con might come at an enormous price for the tenderhearted Grace—and the entire town. Will Grace's undeserved affection and God's mercy make something beautiful from the ashes of Theo's past?
About the Author
---
KIM VOGEL SAWYER is a highly acclaimed, best-selling author with more than one million books in print, in several different languages. Her titles have earned numerous accolades, including the ACFW Carol Award, the Inspirational Reader's Choice Award, and the Gayle Wilson Award of Excellence. Kim lives in central Kansas with her retired military husband Don, where she continues to write gentle stories of hope. She enjoys spending time with her three daughters and grandchildren.
Praise For…
---
CBA bestseller

Praise for Kim Vogel Sawyer:

"Kim Vogel Sawyer paints characters with exquisite detail emotionally and physically, then sets them in a story that transports the reader into a world equally as appealing as the people who live there. A captivating read, leaving you wanting more."
—Lauraine Snelling, author of To Everything a Season, Wake the Dawn, and Heaven Sent Rain

"The Great Depression was an era that required much grit and a great will to survive. Kim Vogel Sawyer has captured that spirit with characters full of determination, rich in heart, and strong in a sense of compassion. Room for Hope is not merely a nice novel or a touching story. It is a story of our heritage, a story of what it takes to live a life of mercy and love for the least of these. It is a story of reliance on God during the darkest of days. It is a look into our past to see that, truly, we are not all that different from our grandparents. It is our story."
—Susie Finkbeiner, author of A Cup of Dust: A Novel of the Dust Bowl

"When Mercy Rains is a beautiful testimony to the power of forgiveness. With three generations of characters to fall in love with, Kim Vogel Sawyer's new novel kept me turning pages—and discovering surprises—to the very end. I especially enjoyed the Kansas setting and the restoration of a homestead that was a beautiful reflection of the restoration of hearts and minds."
—Deborah Raney, author of The Face of the Earth and the Chicory Inn Novels series

"A compelling cast of authentic characters, heart-wrenching mistakes and responses, and love, redemption, and restoration make When Mercy Rains by Kim Vogel Sawyer a must-read masterpiece."
—Mona Hodgson, author of The Sinclair Sisters of Cripple Creek series, The Quilted Heart omnibus, and Prairie Song

"Quite simply, I loved this story from page one until the end. Kim has created a story that lovingly depicts the people, land, and culture of Appalachia. Guide Me Home is a tale of love and hope and faith that will hold your heart long after you reach the end."
—Laurie Alice Eakes, author of The Mountain Midwife, 2016 Rita Finalist

"Kim Vogel Sawyer's historical novels always delve deep into the characters' hearts. Room for Hope is a beautiful story with an unusual twist. Yes, I cried… A definite page-turner, this story kept my attention to the very end."
—Susan Page Davis, author of Captive Trail and The Outlaw Takes a Bride