The Power of a Half Hour: Take Back Your Life Thirty Minutes at a Time (Hardcover)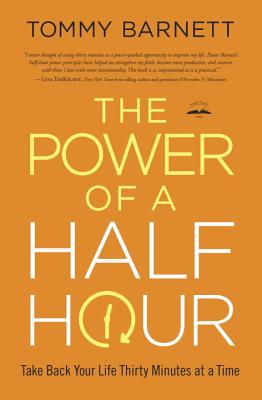 Description
---
Turn your fleeting minutes into defining moments.
What can you do in 30 minutes? Have lunch? Watch television? Check Facebook?
How about change your life?
Why do some people achieve far more than others? We all get the same 24 hours in a day, yet a special few seem to have superhuman abilities when it comes to accomplishing great things in life.
Tommy Barnett, a proven master at -getting things done, - says the key to maximizing your productivity is to make use of small, manageable moments in your day--just 30 minutes at a time. In this remarkably practical book, Tommy shows how to begin a whole new life of fruitfulness. You'll see immediate results in all areas of your life, including your--
- Purpose and values
- Personal goals
- Faith
- Character and attitude
- Dreams
- Career
- Relationships
- Marriage and family
- Church involvement and ministry
Why not change time from being your worst enemy to your everlasting friend? It all starts with the amazing things you can do in only a half hour. Through inspiring stories and biblical principles, discover how your downtime can have a major upside.
Get going--you don't have a minute to lose.
About the Author
---
Tommy Barnett is the senior pastor of Phoenix First Assembly of God, one of the fastest growing churches in America and home base for more than 260 outreach ministries. He also serves as chancellor of Southeastern University and founded the original Dream Center in Los Angeles. He's the author of Multiplication, Hidden Power, Reaching Your Dreams, and other books. Tommy lives in Phoenix with his wife, Marja. They are parents of three children who have all grown up to be successful church leaders.
Praise For…
---
Praise for The Power of a Half Hour

"Before reading this book, I never thought of seeing 30 minutes as a power-packed opportunity to improve my life. Pastor Barnett's half hour power principles have helped me strengthen my faith, become more productive, and connect with those I love with more intentionality. This book is as inspirational as it is practical, and I plan to use it as an integral part of my staff development program."  
— Lysa TerKeurst, New York Times bestselling author and president of Proverbs 31 Ministries

"Tommy Barnett inspires people to be bold witnesses and fulfill Christ's commission. He accomplishes much for the kingdom. After reading this dynamic book, you'll understand why. His concept of 'thirty minutes' can help you make the most of each day—in many areas—and enable you to have a positive influence on others."
— James Robison, founder and president, LIFE Outreach International