Muzzled: The Assault on Honest Debate (Paperback)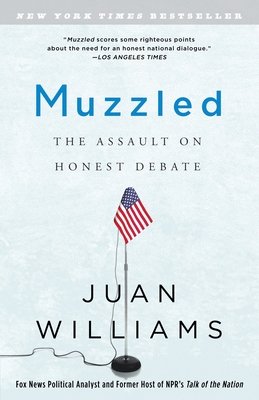 $15.00
Backordered or Out of Print
Description
---
NEW YORK TIMES BESTSELLER • "Muzzled scores some righteous points about the need for an honest national dialogue."—Los Angeles Times

In Muzzled, Juan Williams uses his very public firing from NPR as a launching pad to discuss the countless ways in which honest debate in America is stifled. In today's partisan world, where media provocateurs rule the airwaves and political correctness dictates what can and cannot be said with impunity, Williams shows how the honest exchange of ideas and the search for solutions and reasonable compromise is deliberately muzzled. Among the issues denied a full-throated discussion are racial profiling, the increased reliance on religious beliefs in debating American values and legislation, the nuances of an immigration policy gone awry, the uneasy balance between individual freedom and our desire for security against terrorism, and much more.

Delivering a fierce, fresh look at the critical importance of an open airing of controversial issues, Williams argues that only by bringing such hot-button topics into the light of day can we hope to grapple with them, and exercise our cherished, hard-won right of free speech.
About the Author
---
Juan Williams, one of America's leading journalists, is a political analyst for Fox News, a regular panelist on Fox Broadcasting's Sunday morning public affairs program, Fox News Sunday, and a columnist for Fox News online and for The Hill. He hosted NPR's Talk of the Nation and has anchored Fox News Channel's weekend daytime news coverage. A former senior correspondent and political analyst for National Public Radio, he is the author of the bestselling book Enough; the critically acclaimed biography Thurgood Marshall: American Revolutionary; and the national bestseller Eyes on the Prize: America's Civil Rights Years, 1954-1965, the companion volume to the critically acclaimed television series. During his twenty-one-year career at The Washington Post, Williams served as an editorial writer, op-ed columnist, and White House reporter. His articles have appeared in the New York Times Sunday Magazine, Time, Newsweek, Fortune, The Atlantic Monthly, Ebony, Gentlemen's Quarterly, and The New Republic.
Praise For…
---
"Juan Williams is both dangerous and highly constructive. He is both of these because, although he is a liberal, he is also a well-informed independent thinker. Driven by conviction and evidence, he is not afraid to dissent from liberal orthodoxy. He's a liberal with whom conservatives can have an honest debate and sometimes find common ground. And while I don't necessarily agree with every observation or opinion in this book, it is Juan's candid appraisal of the condition of political debate in America. It ain't a pretty sight."—Karl Rove, former senior advisor to President George W. Bush
 
"For any American who fears the coarsening of our political debate has become an impediment to our progress as a people—and, more importantly, is wondering how to fix it—Juan Williams has written a book well worth reading."—David Axelrod, former senior advisor to President Barack Obama
 
"Ever since Juan Williams wrote Eyes on the Prize about the civil rights movement, I've been an admirer. It was painful to see him become the insect-in-the-jar last year for speaking his mind freely on Fox News. In Muzzled Williams gets to settle mighty scores. It's a thoughtful, poignant and well written defense of his journalism career. And it's a cautionary tale about political correctness run amok. Highly recommended!"—Douglas Brinkley, professor of history at Rice University and author of the New York Times bestsellers The Wilderness Warrior and The Great Deluge

"Juan Williams has written a fascinating account of what happened to him at NPR, and used it to make the case for a serious and civilized political debate. An important book and a compelling read."—Brit Hume, senior political analyst, Fox News Channel

"Juan Williams has written a poignant and powerful book about the degradation of our democratic dialogue. He skewers right and left alike for their tendency to use labels and applause lines to try to silence opposition. Don't fall into the trap of thinking that you already know what he is going to say. Read the book instead. You will come away, as I did, sobered about the state of our politics, and determined to demand better."—Stephen L. Carter, William Nelson Cromwell Professor of Law at Yale University

"Juan Williams truly understands the importance of fighting hard for honest debate in America. Though we disagree on many issues, I was pleased to help make sure that his strong voice was not silenced by those who give lip service to the First Amendment. Like his on-air appearances, Juan's writing is smart and honest. Muzzled is the compelling story of our Constitution in action and one man's willingness as an American to speak his mind at any cost."—Roger Ailes, president of Fox News Channel and chairman of the Fox Television Stations Group