Operational Updates
Click HERE for the most updated hours, customer guidelines and updates to store policy.
She's No Faerie Princess: A Novel of the Others (Paperback)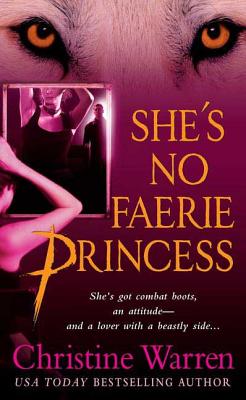 Description
---
Queen Mab's niece, Fiona, has long been bored to tears by the intrigues of Court life. She'd prefer to cut loose at a punk club, knock back a few Thai beers, and hook up with a likely lad of similar interests. But when Fiona goes AWOL, she only gets as far as Manhattan's Inwood Park before a nasty demon nearly puts a permanent crimp in her plans—and a dark stranger sparks her desire...
All work and no play make Tobias Walker one cranky werewolf. After six months of doing his part to keep the peace during the delicate negotiations between the Others and humankind, he'd like nothing more than a good night's sleep—preceded by an enthusiastic mating session. The alluring woman he rescues in the park might be the answer to his most lustful prayers, but only if they can both stay alive long enough to find out who wants her dead and why.
Now, Fiona and Tobias must unravel a tangled web of treachery that spans branches of the Fae, Other, and mortal worlds, all the while falling into a dangerous attraction that could be the beginning of a beautiful friendship—or the end for them both...
About the Author
---
Christine Warren is the bestselling author of The Others series, including Wolf at the Door, Big Bad Wolf, Born to Be Wild, Prince Charming Doesn't Live Here, and Black Magic Woman. Born and raised in coastal New England, she now lives as a transplant in the Pacific Northwest. (She completely bypassed those states in the middle due to her phobia of being landlocked). When not writing, she enjoys horseback riding, playing with her pets, identifying dogs from photos of their underbellies, and most of all reading things someone else had to agonize over.
Praise For…
---
"Intrigue, adventure, and red-hot sexual tension." —Julie Kenner, USA Today bestselling author of Wolf at the Door
"Fun, fast, and fabulously sexy!" —Kerrelyn Sparks, USA Today bestselling author of Wolf at the Door
"A sexy, engaging world spiced with humor that draws you in, never lets you go, and will leave you begging for more!" —Cheyenne McCray, national bestselling author