Operational Updates
Click HERE for the most updated hours, customer guidelines and updates to store policy.
Red Chrysanthemum: A Thriller (Hardcover)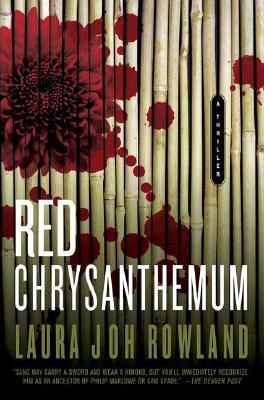 Description
---
July 1698. Sano Ichiro, the samurai detective who has risen to become the shogun's second-in-command, is investigating rumors of a plot to overthrow the ruling regime. When the investigation brings Sano's deputy Hirata to Lord Mori's estate, he is shocked to find Lord Mori murdered and grotesquely mutilated in his own bed, and Sano's pregnant wife, Reiko, lying beside him. The only solid clue is a chrysanthemum soaked in blood.
Reiko's account of her actions is anything but solid. She insists that she went undercover to Lord Mori's estate in order to investigate claims that he molested and murdered young boys. But when Sano inspects the crime scene, he finds no trace of what Reiko described. And every other witness tells a different story: Lady Mori alleges that Reiko was Lord Mori's scorned mistress and murdered him for revenge. And Lord Mori himself, speaking through a medium, claims his murder was part of Sano's plot to overthrow the shogun
Unless Sano can prove his wife's unlikely claims, both he and Reiko--and their unborn child--face execution for treason. Sano fights desperately to save his family and his honor, as Laura Joh Rowland draws on the tradition of the classic film "Rashomon" to bring us a masterful tale of intrigue and treachery.
About the Author
---
Laura Joh Rowland, the granddaughter of Chinese and Korean immigrants, grew up in Michigan and was educated at the University of Michigan. She and her husband, Marty, settled in New Orleans and have recently returned there after Hurricane Katrina. "Red Chrysanthemum" is the eleventh in her highly acclaimed series of thrillers featuring Sano Ichiro.
Praise For…
---
"Sano may carry a sword and wear a kimono, but you'll immediately recognize him as an ancestor of Philip Marlowe or Sam Spade." --The Denver Post

"Rowland has a painter's eye for the minutiae of court life, as well as a politician's ear for intrigue." --The New York Times Book Review

"Rowland uses her fine eye for detail to portray the intricate surface and roiling underbelly of life in a tightly structured, controlled society. Her Japan is a mix of Kabuki theater-like stylized formality, palace intrigue, and physical action that would do a martial arts move proud." --The Times-Picayune (New Orleans)

"A careful, beautiful portrayal of a dangerous time in Japanese history . . . Rowland has created a compelling and lively series." --Dallas Morning News

"As a fan of Shogun, it's easy to say that The Samurai's Wife provided me with the same sense of place and culture that was so invigorating in James Clavell's epic yarn. . . . Laura Joh Rowland is a pretty terrific storyteller." --Chicago Tribune

"The compelling story line, evocative detail and suspense should engage newcomers and satisfy longtime fans alike. At a point when many series show signs of wear, Rowland's characters remain fresh." --Publishers Weekly on The Assassin's Touch