Operational Updates
Click HERE for the most updated hours, customer guidelines and updates to store policy.
Black Magic Woman: A Novel of The Others (Paperback)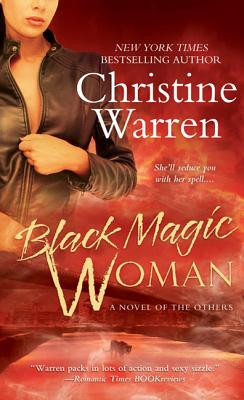 Description
---
Daphanie Carter is thrilled that her sister Danice finally found her Prince Charming—even though he's not quite, well, human. Daphanie is trying to keep an open mind. Which is why she jumps at the chance to enter the hidden world of The Others when a friendly imp invites her to a non-human nightclub. Daphanie's curious to see how the Other half lives—and parties—but soon, one handsome stranger has her bewitched, bothered, and beside herself…
Enter Asher Grayson. As a Guardian, it's his job to protect humans who get mixed up in the affairs of Others. When he spots Daphanie in a club, going head to head with a notorious witch doctor, he steps in to cool things off. Now the heat is on. Daphanie becomes the target of strange magical attacks, and Asher's got to undo the voodoo before it's too, too late. But soon he starts to wonder if this beautiful, beguiling mortal has put a spell on him—because every little thing she does is magic…
About the Author
---
Christine Warren is the bestselling author of The Others series, including Wolf at the Door, Big Bad Wolf, Born to Be Wild, Prince Charming Doesn't Live Here, and Black Magic Woman. Born and raised in coastal New England, she now lives as a transplant in the Pacific Northwest. (She completely bypassed those states in the middle due to her phobia of being landlocked). When not writing, she enjoys horseback riding, playing with her pets, identifying dogs from photos of their underbellies, and most of all reading things someone else had to agonize over.
Praise For…
---
"Excitement, passion, mystery, characters who thoroughly captivate, and a satisfying romance make BLACK MAGIC WOMAN a must read." —Romance Reviews Today on BLACK MAGIC WOMAN
"Black Magic Woman will capture your senses and ensnare your imagination. Another great novel from Christine Warren." —Single Titles on BLACK MAGIC WOMAN
"Black Magic Woman is a sexy action-packed romance!" —Joyfully Reviewed on BLACK MAGIC WOMAN
"Warren packs in lots of action and sexy sizzle." —Romantic Times BOOKreviews on BORN TO BE WILD
"Incredible." —All About Romance on BORN TO BE WILD
"Warren takes readers for a wild ride." —Night Owl Romance on BORN TO BE WILD
"Another good addition to The Others series." —Romance Junkies on BORN TO BE WILD
"[A] sexy, engaging world…will leave you begging for more!" —New York Times bestselling author Cheyenne McCray on BORN TO BE WILD
"In this world…there's no shortage of sexy sizzle." —Romantic Times BOOKreviews on Big Bad Wolf
"Another hot and spicy novel from a master of paranormal romance." —Night Owl Romance on Big Bad Wolf
"Ms. Warren gives readers action and danger around each turn, sizzling romance, and humor to lighten each scene. Big Bad Wolf is a must read." —Darque Reviews on Big Bad Wolf
"Filled with supernatural danger, excitement, and sarcastic humor." —Darque Reviews on YOU'RE SO VEIN
"Five stars. This is an exciting, sexy book." —Affaire de Coeur on YOU'RE SO VEIN
"The sparks do fly!" —Romantic Times BOOKreviews on YOU'RE SO VEIN
"Christine Warren has masterfully pulled together vampires, shape shifters, demons, and many 'Others' to create a tantalizing world of dark fantasies come to life. Way to go, Warren!" —Night Owl Romance on ONE BITE WITH A STRANGER
"A sinful treat." —Romance Junkies on ONE BITE WITH A STRANGER
"Hot fun and great sizzle." —Romantic Times BOOKreviews on ONE BITE WITH A STRANGER
"A hot, hot novel." —A Romance Review on ONE BITE WITH A STRANGER