Welfare Wifeys: A Hood Rat Novel (Paperback)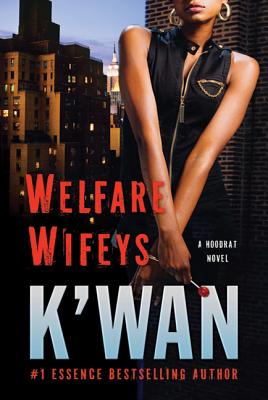 $17.99
Usually Ships in 1-5 Days
Description
---
After the deaths and arrests of his entire crew and an informant-fueled investigation into his past, the man known on the streets as Animal relocates to Texas and finds fame and stardom as the newest act signed to the notorious Big Dawg Entertainment. His girlfriend, Gucci, is thrilled when she gets the news that he's coming back to New York on a promotional tour, but when she discovers the hidden agenda behind his homecoming nothing can prepare her for the life-altering consequences that will come of it.
There goes the neighborhood . . . again.
About the Author
---
K'WAN is the #1 Essence bestselling author of Welfare Wifeys, Section 8, Gutter, Still Hood, Hood Rat, and others. He wrote his first novel, Gangsta, as a therapeutic release, and it went on to become an Essence bestseller and a part of urban-lit history. In 2008 he received the Black Author of the Year Award from Black Press Radio. He has been featured in Time, KING, The New York Press, and on MTV and BET. Besides an author, K'wan is also a motivational speaker, a mentor to at-risk children and the C.E.O of Black Dawn, Inc. He lives in New Jersey.
Praise For…
---
"Quick and entertaining, K'wan's latest captures a small slice of modern urban life with a great degree of credibility and finds in Animal his most conflicted, memorable, and likable character yet." —Publisher's Weekly on Section 8
"K'wan once again comes through with a gritty and violent yarn that raises the street-lit bar." —Library Journal on Section 8
"A street-lit version of The Godfather . . . Hoodlum does what literature should do. It shows us that writing really matters." —Library Journal on Hoodlum
"The big draw here is the electric prose, which is imbued with profane, comic lyricism." —Publishers Weekly on Hood Rat
"One of hip-hop fiction's hottest authors . . . fans will appreciate many of the qualities that make K'wan a writer to check for: gritty settings, memorable dialogue, and authentic action." —KING magazine on Street Dreams