Eviction Notice: A Hood Rat Novel (Paperback)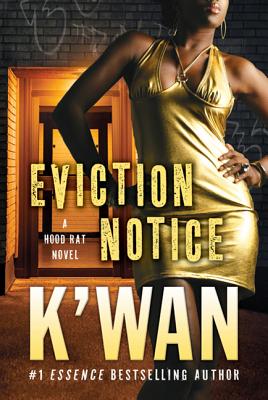 $17.99
Usually Ships in 1-5 Days
Description
---
When three young friends, Porsha, Frankie and Sahara, decide to sublease an apartment from a mutual acquaintance, life becomes one big party for the girls. But the party comes to an abrupt end when they find out they've been fleeced for their money and an eviction notice is taped to their door. They have seventy-two hours to come up with the money or be tossed into the streets by the city marshals. Armed with various schemes, they set out to try and stop the eviction and find themselves caught in the crossfire of a bloody war between the Notorious Clark family and a new player in the game.
Meanwhile the police are still searching for the killer known only as The Animal, while his former lover Gucci tries to put the pieces of her life back together. When all is said and done, all parties involved will discover something about Animal and his abduction that no one was prepared for.
There goes the neighborhood, again!
One of Library Journal's Best Street Lit Books of 2011
About the Author
---
K'WAN is the #1 Essence bestselling author of Welfare Wifeys, Section 8, Gutter, Still Hood, Hood Rat, and others. He wrote his first novel, Gangsta, as a therapeutic release, and it went on to become an Essence bestseller and a part of urban-lit history. In 2008 he received the Black Author of the Year Award from Black Press Radio. He has been featured in Time, KING, The New York Press, and on MTV and BET. Besides an author, K'wan is also a motivational speaker, a mentor to at-risk children and the C.E.O of Black Dawn, Inc. He lives in New Jersey.
Praise For…
---
"K'wan excels at dialogue, and his densely packed universe has every element of successful street drama." —Publisher's Weekly on Welfare Wifeys
"K'wan once again comes through with a gritty and violent yarn that raises the street-lit bar." —Library Journal on Section 8
"A street lit version of The Godfather...HOODLUM does what literature should do. It shows us that writing really matters." —Library Journal on Hoodlum
"The big draw here is the electric prose, which is imbued with profane, comic lyricism." —Publishers Weekly on Hood Rat
"One of hip-hop fiction's hottest authors. . .fans will appreciate many of the qualities that make K'wan a writer to check for: gritty settings, memorable dialogue and authentic action." —KING magazine on Street Dreams